The meeting took place in Restoration Hall at Lincoln Christian College and Seminary. LCCS President Keith Ray made the opening remarks. Dr. Ray acknowledged the presence of Lincoln College President Ron Shilling, saying that the two colleges make an economic impact on the community and "we care" about what happens here.

Ray said he has also been involved with a group of business leaders who meet regularly to pray for Lincoln. The vision of the Community Builders group is to instill hope, foster health and wholesomeness in Lincoln. That group stands ready to be supportive in efforts to move Lincoln forward.

Many of those in attendance are already a significant part of the forces that are moving Logan County forward at this time. There were members of Lincoln City Council; Logan County Board; community leaders for Chestnut, Atlanta and Mount Pulaski; as well as members of the Lincoln and Logan County Development Partnership; Logan County Regional Planning Commission; Abraham Lincoln Tourism Bureau of Logan County; and the Lincoln/Logan County Chamber of Commerce. This meeting gave them a chance to more fully understand all that is being done by different entities and how it all plays together.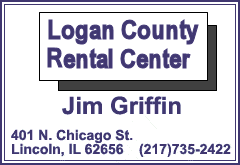 A significant number of citizens occupied a portion of the audience also. A business owner and resident in Lincoln said that she just got her property tax bills, and it reminded her of her responsibility as a citizen and taxpayer to know about what is going on. Another citizen said that his family farms and uses GIS. He was interested in the GIS portion of the presentation.
Four speakers presented information on developing a new comprehensive plan for Logan County and the integration of a geographic information system, a comprehensive economic development strategy and an economic development website.
The Logan County Regional Planning Commission is contracting with the McLean County planning team to work on the Logan County Comprehensive Plan. The team brings a level of experience, knowledge and equipment that will reduce costs and expedite the development. The cost will be $55,000.
Paul Russell, director of the McLean County Regional Planning Commission, led the audience through all the steps that will take place in the development. He explained why we need a plan, what is in the plan and how it lays our path into the future. "This is your road map," he said.
The information collected will take into account detailed information of all that is already here: businesses, services, average incomes and population demographics, utilities, transportation, and more.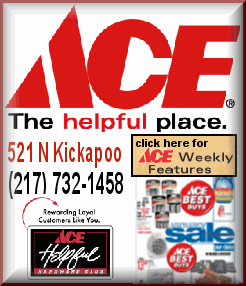 It will set a vision for the future that can be used by zoning to evaluate where and what type of development should take place
Lastly, Russell pointed out, we will need to keep in mind that this is not an end product; it needs continual updating to remain viable.
The plan gathers statistical information that leads the way in decision-making for the type of future that we want here in Logan County. At the community level this can be seen in planning where to use resources, such as planning major road improvements.
Russell will meet monthly with the planning commission during the process. A preliminary plan is expected in six to nine months once the process is started.
Logan County highway engineer Tom Hicks demonstrated the Ogle County GIS. He said that this is a good model and is what the Logan County system should look like when it is finished.
The system begins with aerial digital photography, which is then made into maps. The technology used provides a high degree of accuracy. The maps are then detailed into land parcels. After that they go to mappers, who draw in and label roads and other information. Then there are many layers of information that can be placed over the maps. The GIS site is designed to turn layers on and off according to the needs of the viewer.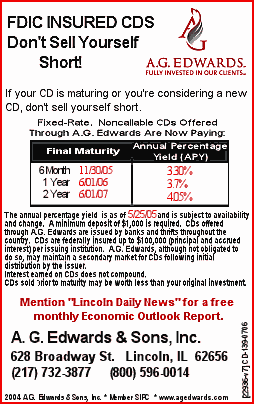 To see how this works, go to http://www.oglecountygis.org/mapservice/inst.htm and choose "Public Area."
Our photography was done with a state grant last spring, Hickman said. The county has it set up to pay for the continued development through certain fees collected through the county clerk's office.
Digitalized maps are now available for sale from the county highway department. They can serve many purposes. He demonstrated to the audience how you can see details on the maps, starting with the entire county, zooming in on Lincoln, then Lincoln Christian College, then the building where the meeting was held, and you could even see the parking lot light poles and the makes of the cars that were in the parking lot at the time the pictures were taken.
The maps show contour and accurate property measurements. With this, municipalities can plan sewer systems and zoning. The state and county will use the maps for property assessment.
We are still in the early development of the system, Hickman said. The digitalized map will soon be sent off to a mapper, which will be chosen in accordance with their particular capabilities, what we need shown and costs. It is expected to take a year before it is back, Hickman said.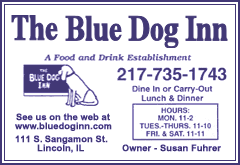 Dewey Colter, who is also employed by the county as coordinator and zoning officer, has taken charge of developing our comprehensive economic development strategy. Colter has served many years in government, with a focus on economic development, and had experience with CEDS. He has seen the benefits to those who are set up, compared with those who are not. "If you are going to keep pace with a global economy, you are going to have to keep up with change," Colter said.
The CEDS will enable us to qualify for federal grant money. It used to be much easier to get these funds, but now it is performance-based and the government wants to see that they will get a return on their investment, Colter said. You need a plan in place and to be able to show that you are following it. "CEDS starting point is where we are tonight," he said.
Rob Orr announced that a website that provides detailed information about our communities will be available in a few weeks. The Web presence will draw companies and individuals seeking new places and provide them with many details they would need that would allow them to make quick decisions.
Orr, who is the Lincoln and Logan County Development Partnership director, underscored the importance of all the work that has been done and is proposed in the future interest of the citizens of Logan County. He said he thought he spoke for everyone who has been doing this work: "The reason we do this is so we all have a nice place to live." We want to have jobs and buy nice cars and homes, or even if we want to drive a distance to work and live here, we want it to be nice.
The comprehensive plan is what we need to do to have an idea of how to get there.
"Our vision at the Lincoln/Logan County Development Partnership is for Logan County to be the best county in Illinois in which to live," Orr said.
Recent related articles