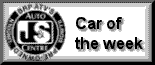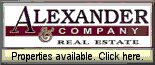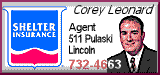 Church Directory

---
---
---
---
---
---
Contact us
---
LDN is best viewed with
IE 6 or Firefox 1.x.

---
LDN awards
Local:
Dec. 16, 2001
Local Emergency Planning Committee
Jan. 25, 2001
Logan County Healthy Communities Partnership
State:
Oct. 1, 2001
Illinois Public Health Association
Saturday, January 21, 2006
posted daily OVER THE NOON HOUR (CDT)


Other News...
What do people living in Logan County find most undesirable: new development, roads and streets, traffic, crime rate/safety, economy/jobs, education/schools, environment, water service, sewer service, solid waste service, location, housing, taxes or appearance? See question 3 in the survey results.

What would you like to see in our Greenways Plan?
Law & Courts Week of Jan. 16, 2006
Health & Fitness
Submit a classified ad online [Lowest cost for advertising in the county!]
\Community
The Sports Page

'Reality' comes to Lincoln City Council
Anti-smoking trail dwindles to the south

Lung cancer patients provide incentive for relatives to quit smoking

Consumers fight identity theft

ZLS geography bee

Redbird athletics measures up academically