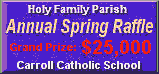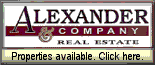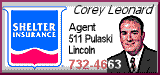 Church Directory

---
---
---
---
---
---
Contact us
---
LDN is best viewed with
IE 6 or Firefox 1.x.

---
LDN awards
Local:
Dec. 16, 2001
Local Emergency Planning Committee
Jan. 25, 2001
Logan County Healthy Communities Partnership
State:
Oct. 1, 2001
Illinois Public Health Association
Saturday, March 19, 2006
posted daily OVER THE NOON HOUR (CDT)

NEW FEATURE: LDN DAILY SUDOKU. Click here!
Sunday: LATE SEASON SNOWSTORM TAKING AIM AT CNTL IL.

A STRONG STORM SYSTEM NOW LOCATED OVER THE S. ROCKIES WILL MOVE NE INTO THE PLAINS TONIGHT & MONDAY.& WILL BEGIN TO AFFECT THE MIDWEST MON AFTERNOON.
INITIAL LIGHT RAIN OR SLEET MON AFTERNOON WILL QUICKLY CHANGE TO SNOW & BECOME HEAVY AT TIMES MON NIGHT & TUES MORNING. EARLY INDICATIONS SUGGEST THAT A BAND OF SNOW IN EXCESS OF 6 INCHES WILL BE POSSIBLE IN THE WATCH AREA.ESPECIALLY ALONG THE INTERSTATE 72 CORRIDOR.
IN ADDITION TO THE HEAVY SNOW.NORTHEAST WINDS FROM 15 TO 25 MPH WITH GUSTS ABOVE 30 MPH WILL PRODUCE CONSIDERABLE BLOWING AND DRIFTING SNOW. TRAVEL MAY BECOME QUITE DIFFICULT LATE MON NIGHT AND TUES MORNING.


Law & Courts Week of March 13, 2006

\Community
Submit a classified ad online [Lowest cost for advertising in the county!]
The Sports Page

Logan County EMA to spearhead volunteer storm cleanup efforts on Saturday

ALMH CEO 'Woody' Hester promoted in Memorial Health System
Dolan Dalpoas to succeed Hester

State Board of Education adopts governor's proposal to ban junk food in Illinois elementary and middle schools

Candidates:

Dan Meyer, county board candidate, District 2

Jim Griffin, county board candidate, District 5

Gloria Luster, county board candidate, District 5

Paul Gleason, county board candidate, District 6

Michael D. McIntosh, county board candidate, District 6

Help with writing assignments

Mr. Smith (and Brian and Warren) goes to the NCAAs!
By Greg Taylor