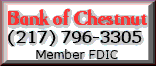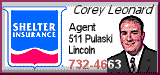 Church Directory

---
---

---
---
---
---
Contact us
---
LDN is best viewed with
IE 6 or Firefox 1.x.

---
LDN awards
Local:
Dec. 16, 2001
Local Emergency Planning Committee
Jan. 25, 2001
Logan County Healthy Communities Partnership
State:
Oct. 1, 2001
Illinois Public Health Association
posted daily OVER THE NOON HOUR (CDT)

New: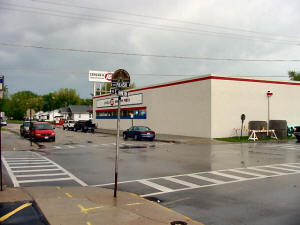 Some downtown traffic will be affected as the city of Lincoln does some sewer work. Work begins Tuesday. The intersection at Pulaski and Hamilton streets will be blocked weekdays from 8 a.m. to 4 p.m. May 1-14.
[picture by Jan Youngquist] click on picture for larger image

\Community
Submit a classified ad online [Lowest cost for advertising in the county!]
The Sports Page


MDA to hold benefit for local families

Gov. Blagojevich announces first Illinois agriculture laboratory certified to test for avian flu
Certification means faster test results and response time in suspect cases of avian influenza

Illinois observes first-ever statewide Human Trafficking Outreach Day

Green Building Advisory Committee named

Letters:

Supports Main Street Lincoln efforts

Comment on the letter from Heather Fuller

Lincoln College alumni reunion award winners

Make Mother's Day special -- give the gift of life
May 1 blood drive

May edition Chestnut Post Dispatch

Court news

Marriages

Dissolutions

Combing Traverse City beaches for a prehistoric talisman

Lincoln's New Salem archaeology probes for more evidence of first building owned by Abraham Lincoln

Home Country: Playing by the rules

Mesker building facades, Winnetka's Lloyd House are featured in latest Historic Illinois

LCC sports camps