City briefs

Send a link to a friend
[SEPT. 6, 2006] Before beginning Tuesday night's city business session, Mayor Beth Davis called for a moment of silence for a past city of Lincoln firefighter, Jake Lessen. Lessen lost his life in a weekend motorcycle accident. He left the Lincoln department in 2003 to join the Springfield Fire Department.
Bids for phase two of the Sysco infrastructure projects were approved. The work consists of building roads, storm water drainage and sewers in the newly developed commercial park area south of Route 10-Woodlawn Road between Connolley Road and Interstate 55. New traffic signals and widened turn lanes for truck traffic are part of the work.

Illinois Valley Paving of Springfield won the bid at $1,595,226.72. The bid includes the extension of Ball Drive, the road farthest west in the new development area, running north and south along I-55.

In April, Gene Burwell asked the city to include Ball Drive in the work that is being done at this time, and Burwell Management Co. would pay for their portion and assist the city with some of its costs. The road accesses the BLP commercial park area, zoned for light industry. Burwell expected that bundling it with the city roadwork being done at this time would possibly reduce costs he would encounter and would eliminate some processes that he would have to go through if doing it himself, thereby speeding up the process. He has had potential interest expressed in the property, and getting it done now would improve development possibilities.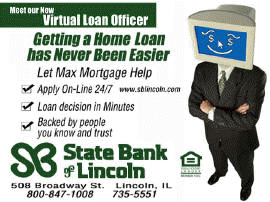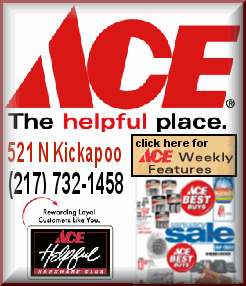 Two general street maintenance material bids were awarded. One was to P.H. Broughton and Sons for the sum of $13,020. The other street maintenance bid was awarded to Lois Marsh in the amount of $22,425.90. These funds are supplied by the state-held motor fuel tax to be used for local street repairs and projects.
The mayor recognized by proclamation the 36th year of the Abraham Lincoln National Railsplitting Contest and Crafts Festival. [New features at this year's festival]
[Jan Youngquist]
Past related articles