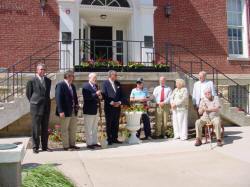 Formal announcement of Lincoln College's new Lincoln Center was made Monday afternoon. The college's plan to build was launched forward with financial assistance through a federal program that works with local banks in providing low-interest loans. From left to right: Steve Aughenbaugh, State Bank of Lincoln president; Doug Wilson, USDA Rural Development director for Illinois; Dr. John Hutchinson, Lincoln College president; Ray LaHood, 18th District congressman; and Lincoln College board members Bill Gossett, Bob Neal, Shirley Edwards, Charles Nauts and Bernard E. Behrends (seated).
[picture by Jan Youngquist] click on picture for larger image

Lincoln Country Radio 96.3 FM and Lincoln Daily News team up for simulcast.
"Viewpoint,"

Wednesday 8:15am
Bill Gossett & Judy Busby
---
OPEN MIC

Friday 8:15am
Jim Ash and the LDN's Mike Fak