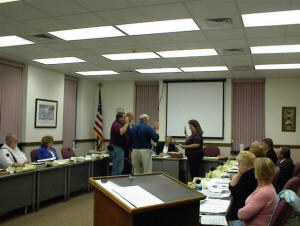 The first Lincoln City Council meeting in the new fiscal year took place Monday night. Mayor Beth Davis asked each of the city's department heads who are appointed annually to return for another year of service. All accepted the offer and the council approved each of them: Bill Bates, city attorney; Lester Last, building and codes official; Tracy Jackson, streets superintendent; Stuart Erlenbush, police chief.
Melanie Riggs, city clerk, administered the oath of office to all but Erlenbush. He will be in attendance next week.


Lincoln Country Radio 96.3 FM and Lincoln Daily News team up for simulcast.

Wednesday morning at 8:15 tune in for "Viewpoint," Bill Gossett & Judy Busby sharing their witty take on life with politicians,

personalities & perspectives on local issues.
---

Friday mornings at 8:15 listen to OPEN MIC.
The "Open Mic" show, featuring Jim Ash and the LDN's

Mike Fak, along with newscaster Steve Sauer, is now available on LDN. The live program, in which the two hosts talk about the news of the day, both local and around the world, always has more than its fair share of humor thrown in.