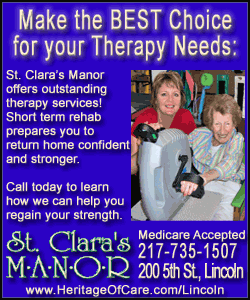 Wednesday, April 27
Christian Women's Conference
DETAILS: "Look Up! Timeless Truths for Trying Times," featuring Ellie Lofaro and Kathy Troccoli. Enjoy a day of solid biblical teaching with practical life application, heartfelt songs, inspiring stories and heaps of healing laughter. Discount on registration up to April 1. Registration fee includes lunch.
WHERE: Lincoln Christian University, Earl C Hargrove Chapel auditorium
WHEN: 9 am-4 pm
Thursday, April 28
Office Professionals Luncheon
SPONSOR: Lincoln/Logan County Chamber of Commerce
WHO: Office professionals from Logan County, by reservation
DETAILS: (See article.)
WHERE: American Legion, 1740 Fifth St.
WHEN: 11:30 am-1:30 pm
Friday, April 29
Plant sale
SPONSOR: Elkhart Needs and Goals
WHO: Public
DETAILS: Lots of annuals, perennials, vegetables, hanging baskets.
WHERE: Elkhart Village Hall, Elkhart
WHEN: 10 am-6 pm
(Continues Saturday morning)
Elkhart Historical Society dinner-lecture
SPONSOR: Elkhart Historical Society
WHO: Public, by reservation
DETAILS: Topic: "The Birds of Elkhart Hill." Reservation deadline April 25.
WHERE: Wild Hare Cafe, 104 Gov. Oglesby St., downtown Elkhart
WHEN: 5:30-8 pm
Saturday, April 30
Plant sale
SPONSOR: Elkhart Needs and Goals
WHO: Public
DETAILS: Lots of annuals, perennials, vegetables, hanging baskets.
WHERE: Elkhart Village Hall, Elkhart
WHEN: 8-10 am
(Continued from Friday sale)
Plant sale
SPONSOR: Hartsburg-Emden FFA
WHO: Public
DETAILS: Plants available include vegetables and annual flowering plants. Also available are hanging baskets and potted flower arrangements. For more information contact Betsy Pech at 642-5244.
WHERE: Hartsburg-Emden FFA greenhouse
WHEN: 8 am-noon
The greenhouse will also be open the first three Saturdays in May.
Vines & Vendors: plant sale, crafts, art, home-based vendors
SPONSOR: Zion Lutheran School Challenge Committee
WHO: Public
DETAILS: Seventh annual plant sale featuring annuals, perennials and hanging baskets from Connie's Greenhouse. Handmade arts and crafts by local artisans. A variety of products from your favorite home-based businesses. Door prize drawings every hour. Refreshments and box lunches will be available.
WHERE: Zion Lutheran School, 1600 Woodlawn Road
WHEN: 8 am-2 pm
Townwide sales in Middletown
SPONSOR: Knapp-Chesnut-Becker Library Museum
WHO: Community
DETAILS: Townwide garage, craft, flea market and book sales. Sandwiches, chips, drinks and baked goods for sale at the American Legion. Call 217-445-2789 to reserve a spot in the park and get on the map for the garage sale. Fee.
WHERE: Middletown
WHEN: 8 am-1 pm
Bird Walks on Elkhart Hill
SPONSOR: Elkhart Historical Society
WHO: Anyone
DETAILS: See www.elkharthistoricalsociety.org for reservation information. Reservation deadline April 23.
WHERE: Elkhart
WHEN: 8:30 and 10:30 am
Plant sale
SPONSOR: Logan County Master Gardeners
WHO: Everyone
DETAILS: 10th annual plant sale. Huge selection of top-quality plants, predominantly perennials, including hostas, daylilies, irises, garden phlox, sweet autumn clematis, purple coneflowers, Shasta daisies and black-eyed Susans, and much more. Also, heirloom tomatoes, peppers, houseplants, grasses, some shrubs and some annuals -- all at bargain prices.
(See latest announcement.)
WHERE: Logan County Fairgrounds, Special Events Building
WHEN: 9 am-noon
Barbecue judging class
WHO: Interested individuals, by registration
DETAILS: Certified by Kansas City Barbeque Society.
http://www.lincolnbbq.com/judges.html
(See article.)
WHERE: Knights of Columbus Hall, 217 Limit St.
WHEN: 9 am registration. Class begins at 9:30 am.
Spring for Tea
SPONSOR: Harvest of Talents for World Hunger, Lincoln Christian Church
WHO: Open to women from this and other communities
DETAILS: Spring tea featuring tasty sweet and savory delicacies served from tastefully appointed tables. Guest program and door prizes donated by local individuals and businesses. Tickets may be purchased at the office of Lincoln Christian Church. For details call 732-7618.
(See article.)
WHERE: Fellowship Center, Lincoln Christian Church, 204 N. McLean
WHEN: Doors open at 10:45 am. Tea served at 11:30 am.
The Reading Railroad
SPONSOR: Iota Chi Chapter of Phi Theta Kappa
WHO: Children ages 3-7, preschool to first grade
DETAILS: (See article.)
WHERE: Lincoln College, Davidson-Schaffer Gymnasium
WHEN: 1-4 pm
LCHS prom grand march
WHO: Public
DETAILS: (See information in Close Up column.)
WHERE: Downtown Lincoln square. Participants will exit the courthouse on the Pulaski Street side.
WHEN: 6 pm