Send a link to a friend
July 2011
---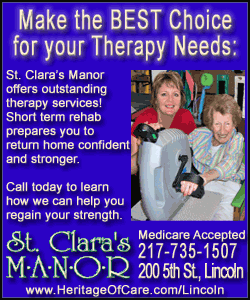 Saturday, July 23
Lincoln Farmer's Market
SPONSOR: Lincoln Farmer's Market
WHO: Public
DETAILS: http://www.wachterfarms.com/
WHERE: Scully Park, 316 S. Kickapoo
WHEN: 7 am-noon
Farmers' Market, Lincoln
SPONSOR: Farmers' Market, Lincoln
WHO: Public
DETAILS: Baked goods, vegetables, fruits as they mature and crafts.
WHERE: Latham Park, downtown Lincoln
WHEN: 8 am-noon
Dog wash
SPONSOR: Humane Society of Logan County
WHO: Public
DETAILS: (See information in Close Up column.)
WHERE: Kroger, 1475 Woodlawn Road
WHEN: 10 am-1 pm
Cemetery walk
SPONSOR: Emden Historical Society
WHO: Public
DETAILS: (See article.)
WHERE: Bethel Cemetery
WHEN: 6:30 pm
Ice cream social and musical entertainment
SPONSOR: St. John's Lutheran Church in Hartsburg
WHO: Congregation and guests
DETAILS: Everyone is invited to join us for an ice cream social and entertainment by the Central Illinois Banjo Club of Morton. Please bring your lawn chairs. The band will play on the front steps of the church -- weather permitting. Band plays at 7 pm and ice cream to follow.
WHERE: Washington and Pine streets, Hartsburg
WHEN: 7 pm to ?
Sunday-Thursday, July 24-28
Jefferson Street Vacation Bible School
SPONSOR: Jefferson Street Christian Church
WHO: Preschool through eighth grade
DETAILS: PandaMania VBS. Preschool must preregister. Sixth through eighth grade have a unique VBS called "WILD."
https://www.groupvbspro.com/vbs/ez/jeffstreet/gpgs/Home.aspx
WHERE: Jefferson Street Christian Church, 1700 N. Jefferson St.
WHEN: 6-8:30 pm
Wednesday, July 27
Lincoln Farmer's Market
SPONSOR: Lincoln Farmer's Market
WHO: Public
DETAILS: http://www.wachterfarms.com/
WHERE: Scully Park, 316 S. Kickapoo
WHEN: 3-6 pm
Friday, July 29
Logan County Democrat event
SPONSOR: Logan County Democrats
DETAILS: U.S. Sen. Richard Durbin and Jill Morganthaler, co-chair, Illinois Democratic Women
WHERE: Lincoln Knights of Columbus, 217 N. Limit
WHEN: 5-8 pm with speakers at 6:30 pm
Saturday, July 30
Lincoln Farmer's Market
SPONSOR: Lincoln Farmer's Market
WHO: Public
DETAILS: http://www.wachterfarms.com/
WHERE: Scully Park, 316 S. Kickapoo
WHEN: 7 am-noon
Farmers' Market, Lincoln
SPONSOR: Farmers' Market, Lincoln
WHO: Public
DETAILS: Baked goods, vegetables, fruits as they mature and crafts.
WHERE: Latham Park, downtown Lincoln
WHEN: 8 am-noon
St. Jude Cut-a-thon
SPONSOR: Blades Hair & Nail Salon
WHO: Public
DETAILS: Proceeds to St. Jude's.
(See information in Close Up column.)
WHERE: Blades Hair & Nail Salon, 241 Madigan Drive
WHEN: 9 am-noon
Movie in the Park
SPONSOR: Lincoln Junior Woman's Club
WHO: Public
WHERE: Melrose Park
WHEN: 8:30 pm