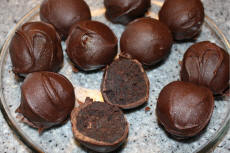 Cake Truffles
Submitted by Deb Rohrer, LDN Food Editor


1 (18.25 oz.) package cake mix
1 (16 oz.) container prepared frosting (may need less)
1 (3 oz.) bar chocolate flavored confectioners coating

Prepare the cake mix according to package directions using any of the recommended pan sizes.
When cake is done, let the cake COOL for at least a half hour.
Cut off and toss the edges; crumble remaining warm cake into a large bowl; stir in the half of the frosting until well blended.
Depending on how moist your cake is you may want to add more frosting, I add just enough when you make a ball it sticks together, adding too much makes the mixture soggy.
Cover bowl and refrigerate about 3 hours.
Use a small cookie scoop to measure out amount and roll between your hands to form ball from the cake mixture.
Melt chocolate coating in a glass bowl in the microwave, start with 30 seconds then stir, repeat until chocolate is smooth.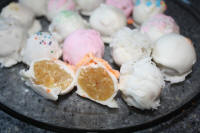 Dip a small spoon into melted chocolate, place each ball one at a time on the small spoon while holding over bowl of chocolate.
Use a large spoon to pour chocolate over the ball and tap on the side of the bowl to remove extra chocolate. Place on waxed paper. At this point you might want to use sprinkles or other toppings before chocolate sets up.

NOTE: Making these is a lot of trial and error. Each cake mix flavor may work up differently. My suggestion is to add frosting in small amounts at a time; you can add but not take away. Also depending on how you dip, you may need more coating.
Recipe Submission
We Want Your Recipes! SUBMIT Today!
It's a new year and to help you keep that resolution to eat right and get healthier we have a wealth of healthy eating recipes to kick off the new year.