BREAKING NEWS: Friday, Chester-East Lincoln School closed at 11:30 a.m. All children were sent home due to gastrointestinal illnesses.
A note on the CEL website, http://www.cel61.com/, explains that the school was advised this morning to close due to the number of illnesses.
ADDITIONAL ANNOUNCEMENT: The home-based business and craft sale scheduled to take place Saturday at Chester-East Lincoln has been canceled. LDN will keep you advised if the event is rescheduled.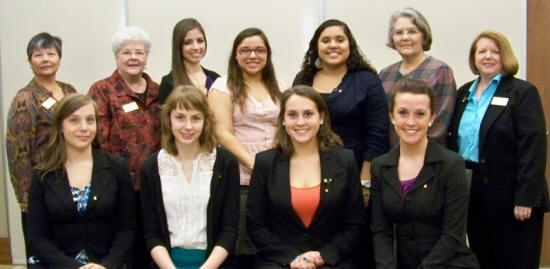 The Zonta Club of Lincoln will act in an advisory capacity for a new Zonta Club that was recently chartered. The Golden Z Club is a club for youth -- dedicated to providing career guidance and promoting leadership skills, international fellowship and the ideal of service.
Pictured above from left to right, back row: Patti Storer, Sharon Awe, Kelly Jacobsen, Ashley Zamora, Lissette Magana, Chris Huff and Susan Harmon; front row: Rachel Wrze, Valerie O'Brien, Elizabeth Kahle and Audrey Maske.
Photo provided by Patti Storer of the Zonta Club of Lincoln (Click on photo for larger image.)