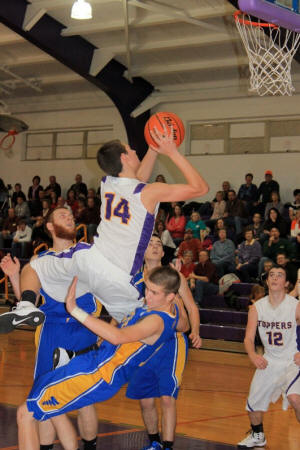 Athletes, acrobats or maybe a little bit of both.
Saturday the Mount Pulaski Hilltoppers pulled out all the stops in trying to take a third victory at the second annual Mount Pulaski Turkey Tournament.
After taking a loss on Friday, the team was hoping for a comeback, but it didn't happen. They narrowly lost their game against the Tri-City Tornadoes with a score of 50-48, leaving them with a fourth-place finish overall.
At left, Michael Lowery drives the basket and gets called for the charging foul.
Photo by Teena Lowery
(Click on photo for larger image.)