Send a link to a friend Share
May 2014
---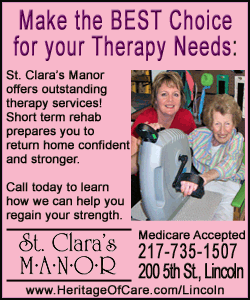 Monday, May 5
Blood drive
SPONSOR: Lincoln Christian University
WHO: Open to the public
DETAILS: Central Illinois Community Blood Center blood drive. For more information or to make an appointment, call 1-866-GIVE-BLD (1-866-448-3253) or sign up through www.bloodcenterimpact.org, Walk-ins are welcome. Bring donor ID or a photo ID.
(See article.)
WHERE: LCU, 100 Campus View Drive
WHEN: 10 am-3 pm
Blood drive
SPONSOR: Immanuel Lutheran Church
WHO: Open to the public
DETAILS: Central Illinois Community Blood Center blood drive. For more information or to make an appointment, call 1-866-GIVE-BLD (1-866-448-3253) or sign up through www.bloodcenterimpact.org, Walk-ins are welcome. Bring donor ID or a photo ID.
(See article.)
WHERE: Lincoln Masonic Center, 2022 N. Kickapoo
WHEN: Noon-6 pm
Habitat night at Culver's
SPONSOR: Habitat for Humanity of Logan County
WHO: Public
DETAILS: Habitat receives 10 percent of the food sales at Culver's from 5 to 8 pm.
WHERE: Culver's, 2530 Woodlawn Road
WHEN: 5-8 pm
Tuesday, May 6
Blood pressure screenings
SPONSOR: Abraham Lincoln Memorial Hospital
WHO: Public
DETAILS: Free blood pressure screenings are available every Tuesday.
WHERE: Wombacher Room at ALMH, 200 Stahlhut Drive
WHEN: 9 am-noon
LCU 70th-year Founders' Day service
SPONSOR: Lincoln Christian University
DETAILS: (See article.)
WHERE: LCU, Earl C Hargrove Chapel Auditorium
WHEN: 9:30 am
Lunch and Learn
SPONSOR: Area Agency on Aging for Lincolnland in cooperation with Senior Citizens of Logan County
WHO: Family caregivers
DETAILS: (See article.)
WHERE: St. John United Church, 210 Seventh St., the temporary location of the Oasis Senior Center
WHEN: Noon-1 pm
Wednesday, May 7
Lincoln Rotary Club meeting
SPONSOR: Lincoln Rotary Club
WHO: Rotary members
DETAILS: Weekly meeting
WHERE: Lincoln American Legion, 1740 Fifth St.
WHEN: Noon
Breastfeeding support group
SPONSOR: Abraham Lincoln Memorial Hospital
WHO: New mothers
DETAILS: Breastfeeding support group meets weekly. Participants weigh their babies and have an opportunity to share stories and ask questions of a certified lactation consultant. Bring your lunch.
http://www.almh.org/About-ALMH/News/NewsDetail.aspx?id=306
WHERE: Steinfort B at ALMH, 200 Stahlhut Drive
WHEN: Noon-1:30 pm
Lincoln Farmer's Market
SPONSOR: Lincoln Farmer's Market
WHO: Public
DETAILS: (See publicity.)
WHERE: Scully Park
WHEN: 2:30-5:30 pm
Thursday, May 8
Mount Pulaski Rotary lunch
SPONSOR: Mount Pulaski Rotary Club
WHO: Approved, dues-paying members
DETAILS: Weekly lunch
(More information)
WHERE: Buff's Restaurant on the Mount Pulaski square
WHEN: Noon-1 pm
Opening reception for LCHS exhibit at Lincoln Art Institute
SPONSOR: Logan County Arts
WHO: Public
DETAILS: (See article.)
WHERE: Lincoln Art Institute, 112 S. McLean St.
WHEN: 5-8 pm
Grief support group
SPONSOR: Memorial Home Services Hospice
WHO: Those who have experienced a loss.
DETAILS: Losing a loved one is difficult. Dealing with feelings of grief and sorrow can be overwhelming in the midst of a loss. Our grief support group offers a private setting for individuals to share, discuss feelings, receive support and offer comfort to others who have shared a similar experience. Attendance is free and open to the public. No appointment or sign-up is necessary. All are welcome to come, share and receive support.
WHERE: Abraham Lincoln Memorial Hospital, 200 Stahlhut Drive
WHEN: 5-6:30 pm
LCHS play: "Little Shop of Horrors"
SPONSOR: Lincoln Community High School
WHO: Public
DETAILS: (See publicity.)
WHERE: LCHS, 1000 Railer Way
WHEN: 7:30 pm
Friday, May 9
LCHS play: "Little Shop of Horrors"
SPONSOR: Lincoln Community High School
WHO: Public
DETAILS: (See publicity.)
WHERE: LCHS, 1000 Railer Way
WHEN: 7:30 pm
Saturday, May 10
Lincoln Farmer's Market
SPONSOR: Lincoln Farmer's Market
WHO: Public
DETAILS: (See publicity.)
WHERE: Scully Park
WHEN: 7 am-noon
Electronics recycling collection
SPONSOR: Habitat for Humanity of Logan County
WHO: Public
DETAILS: http://www.habitatlogan.org/Events.html
WHERE: Habitat for Humanity warehouse, 915 Woodlawn Road
WHEN: 9 am-noon
Glass recycling collection
SPONSOR: Logan County Joint Solid Waste Agency, Lincoln Woman's Club and Verallia Saint-Gobain Containers
WHO: Open to public
DETAILS: Only container glass (originally held a food or beverage item) will be accepted. Clear glass as well as amber, green and blue will be accepted. Unacceptable items include ceramics, dishware, light bulbs, linear fluorescent lights, window glass and mirrors. Glass preparation: Rinse all containers thoroughly. Remove ALL metal and plastic lids and rings from the container. Labels may be left on the containers. The glass recycling program reserves the right to refuse any glass that does not meet preparation guidelines. FOR SAFETY REASONS, NO BROKEN GLASS WILL BE ACCEPTED. Collection will be canceled in case of inclement weather. The Logan County Joint Solid Waste Agency DOES NOT accept glass at any of its collection sites.
WHERE: Logan County Fairgrounds, main entrance
WHEN: 9 am-noon
Walk for Life
SPONSOR: Living Alternatives Pregnancy Resource Center
WHO: Public
DETAILS: (See publicity.)
http://hopeforafuture.com/venue/lincoln-christian-church/
WHERE: Lincoln Christian Church, 204 N. McLean
WHEN: 9 am registration, 10 am walk
Post office food drive
SPONSOR: Mail carriers
WHO: Public
DETAILS: (See article.)
WHERE: Lincoln homes
WHEN: With mail delivery
Lincoln College commencement
SPONSOR: Lincoln College
DETAILS: (See article.)
WHERE: Lincoln Center
WHEN: 2 pm
LCHS play: "Little Shop of Horrors"
SPONSOR: Lincoln Community High School
WHO: Public
DETAILS: (See publicity.)
WHERE: LCHS, 1000 Railer Way
WHEN: 7:30 pm
Sunday, May 11
Mother's Day buffet
SPONSOR: Kiwanis
WHO: Public
DETAILS: (See publicity.)
WHERE: Lincoln College Meyer-Evans Student Center
WHEN: 11 am-2 pm
LCHS play: "Little Shop of Horrors"
SPONSOR: Lincoln Community High School
WHO: Public
DETAILS: (See publicity.)
WHERE: LCHS, 1000 Railer Way
WHEN: 2 pm
Monday, May 12
Artist's talk and critique
SPONSOR: Logan County Arts
WHO: Members and general public
DETAILS: Brian K Simpson will present a talk, "Discussing Techniques of Life Drawing."
(See article.)
WHERE: Salvation Army Keest Center, 307 N. Kickapoo
WHEN: 7 pm
Tuesday, May 13
Blood pressure screenings
SPONSOR: Abraham Lincoln Memorial Hospital
WHO: Public
DETAILS: Free blood pressure screenings are available every Tuesday.
WHERE: Wombacher Room at ALMH, 200 Stahlhut Drive
WHEN: 9 am-noon
Lincoln Writer's Club
WHO: Public
DETAILS: The Lincoln Writer's Club will meet at 6:30 p.m. in the Alumni Room of Lincoln College. Suggested topics for this month are Mother's Day, a time I put my foot in my mouth, or foods I love/hate All are wlecome. For more information call 732-2723.
WHERE: Alumni Room, Lincoln College
WHEN: 6:30 p.m.
Wednesday, May 14
Lincoln Rotary Club meeting
SPONSOR: Lincoln Rotary Club
WHO: Rotary members
DETAILS: Weekly meeting
WHERE: Lincoln American Legion, 1740 Fifth St.
WHEN: Noon
Breastfeeding support group
SPONSOR: Abraham Lincoln Memorial Hospital
WHO: New mothers
DETAILS: Breastfeeding support group meets weekly. Participants weigh their babies and have an opportunity to share stories and ask questions of a certified lactation consultant. Bring your lunch.
http://www.almh.org/About-ALMH/News/NewsDetail.aspx?id=306
WHERE: Steinfort B at ALMH, 200 Stahlhut Drive
WHEN: Noon-1:30 pm
Lincoln Farmer's Market
SPONSOR: Lincoln Farmer's Market
WHO: Public
DETAILS: (See publicity.)
WHERE: Scully Park
WHEN: 2:30-5:30 pm
Thursday, May 15
Mount Pulaski Rotary lunch
SPONSOR: Mount Pulaski Rotary Club
WHO: Approved, dues-paying members
DETAILS: Weekly lunch
(More information)
WHERE: Buff's Restaurant on the Mount Pulaski square
WHEN: Noon-1 pm
Caregivers Together
SPONSOR: The Christian Village
WHO: Caregivers and their families
DETAILS: (See introductory article from last year.) (See publicity.)
WHERE: Christian Village Senior Apartments, 1500 Seventh St.
WHEN: 1:30-3 pm
Friday, May 16
Diabetes support group
SPONSOR: Abraham Lincoln Memorial Hospital
WHO: People with diabetes and their support system
DETAILS: Diabetes support group meets monthly on the third Friday. Free educational session. Participants have the opportunity to share stories and ask questions of a certified diabetes educator. More information available at www.almh.org.
WHERE: Wombacher Room at ALMH, 200 Stahlhut Drive
WHEN: 11 am-noon
Saturday, May 17
Lincoln Farmer's Market
SPONSOR: Lincoln Farmer's Market
WHO: Public
DETAILS: (See publicity.)
WHERE: Scully Park
WHEN: 7 am-noon
Plant sale
SPONSOR: Logan County Master Gardeners
WHO: Public
DETAILS: Perennials, houseplants, ornamental grasses, heirloom tomatoes, peppers, and a small selection of annual flowers and shrubs
(See article.)
WHERE: Logan County Fairgrounds, Special Events Building
WHEN: 9 am-noon
Monday, May 19
Relay For Life meetings
SPONSOR: Relay For Life of Logan County
WHO: Committee and team members
DETAILS: (See article.)
WHERE: Lincoln Christian Church
WHEN: Committee meeting at 6 pm, team meeting at 7 pm
Tuesday, May 20
Blood pressure screenings
SPONSOR: Abraham Lincoln Memorial Hospital
WHO: Public
DETAILS: Free blood pressure screenings are available every Tuesday.
WHERE: Wombacher Room at ALMH, 200 Stahlhut Drive
WHEN: 9 am-noon
Wednesday, May 21
Lincoln Rotary Club meeting
SPONSOR: Lincoln Rotary Club
WHO: Rotary members
DETAILS: Weekly meeting
WHERE: Lincoln American Legion, 1740 Fifth St.
WHEN: Noon
Breastfeeding support group
SPONSOR: Abraham Lincoln Memorial Hospital
WHO: New mothers
DETAILS: Breastfeeding support group meets weekly. Participants weigh their babies and have an opportunity to share stories and ask questions of a certified lactation consultant. Bring your lunch.
http://www.almh.org/About-ALMH/News/NewsDetail.aspx?id=306
WHERE: Steinfort B at ALMH, 200 Stahlhut Drive
WHEN: Noon-1:30 pm
Lincoln Farmer's Market
SPONSOR: Lincoln Farmer's Market
WHO: Public
DETAILS: (See publicity.)
WHERE: Scully Park
WHEN: 2:30-5:30 pm
Railsplitter Coin Club meeting
SPONSOR: Railsplitter Coin Club
WHO: Open to everyone
DETAILS: Monthly meeting on the third Wednesday of each month
WHERE: Friendship Manor, meeting room
Entry to the meeting room is through the side door of the visitor parking lot.
WHEN: 7-9 pm
Thursday, May 22
Mount Pulaski Rotary lunch
SPONSOR: Mount Pulaski Rotary Club
WHO: Approved, dues-paying members
DETAILS: Weekly lunch
(More information)
WHERE: Buff's Restaurant on the Mount Pulaski square
WHEN: Noon-1 pm
Blood drive
SPONSOR: Elkhart Christian Church
WHO: Open to the public
DETAILS: Central Illinois Community Blood Center blood drive. For more information or to make an appointment, call 1-866-GIVE-BLD (1-866-448-3253) or sign up through www.bloodcenterimpact.org, Walk-ins are welcome. Bring donor ID or a photo ID.
WHERE: Elkhart Christian Church, 113 S Gillett, Elkhart
WHEN: 3-6 pm
Saturday, May 24
Lincoln Farmer's Market
SPONSOR: Lincoln Farmer's Market
WHO: Public
DETAILS: (See publicity.)
WHERE: Scully Park
WHEN: 7 am-noon
Blood drive
SPONSOR: Lincoln Hampton Inn
WHO: Open to the public
DETAILS: Central Illinois Community Blood Center blood drive. For more information or to make an appointment, call 1-866-GIVE-BLD (1-866-448-3253) or sign up through www.bloodcenterimpact.org, Walk-ins are welcome. Bring donor ID or a photo ID. As a thank-you for donating around a holiday weekend, all donors will receive a free shirt.
WHERE: Lincoln Hampton Inn, 1019 N. Heitmann Drive, behind Cracker Barrel
WHEN: 11 am-2 pm
Tuesday, May 27
Blood pressure screenings
SPONSOR: Abraham Lincoln Memorial Hospital
WHO: Public
DETAILS: Free blood pressure screenings are available every Tuesday.
WHERE: Wombacher Room at ALMH, 200 Stahlhut Drive
WHEN: 9 am-noon
Wednesday, May 28
Lincoln Rotary Club meeting
SPONSOR: Lincoln Rotary Club
WHO: Rotary members
DETAILS: Weekly meeting
WHERE: Lincoln American Legion, 1740 Fifth St.
WHEN: Noon
Breastfeeding support group
SPONSOR: Abraham Lincoln Memorial Hospital
WHO: New mothers
DETAILS: Breastfeeding support group meets weekly. Participants weigh their babies and have an opportunity to share stories and ask questions of a certified lactation consultant. Bring your lunch.
http://www.almh.org/About-ALMH/News/NewsDetail.aspx?id=306
WHERE: Steinfort B at ALMH, 200 Stahlhut Drive
WHEN: Noon-1:30 pm
Lincoln Farmer's Market
SPONSOR: Lincoln Farmer's Market
WHO: Public
DETAILS: (See publicity.)
WHERE: Scully Park
WHEN: 2:30-5:30 pm
Thursday, May 29
Mount Pulaski Rotary lunch
SPONSOR: Mount Pulaski Rotary Club
WHO: Approved, dues-paying members
DETAILS: Weekly lunch
(More information)
WHERE: Buff's Restaurant on the Mount Pulaski square
WHEN: Noon-1 pm
Saturday, May 31
Lincoln Farmer's Market
SPONSOR: Lincoln Farmer's Market
WHO: Public
DETAILS: (See publicity.)
WHERE: Scully Park
WHEN: 7 am-noon