Senior Services of Central Illinois announces 2015 extended trips
SPRINGFIELD - Below is a list of extended stay trips being coordinated by Senior Services of Central Illinois:
New Orleans – January 26-31, 2015 (7 days/6 nights)
Laissez Les Bon Temps Rouler! (Let the good times roll!) New Orleans lingers on the threshold between the Old World and the New, between history and legend. Jazz streams out into the moonlight, French doors open to the night breezes, sweet olive scents the air. Nearby there is laughter, a cork popping, and café brulot aflame. Here, in this little corner of the American South, where European traditions blend with Caribbean influences, the history is as colorful as the local architecture; the food is the stuff of legend. Come and experience this corner of America with us! (Click here for complete list)
---
Dept on Aging seeks nominations for Senior Hall of Fame
Nomination deadline is August 22; Winners announced later this year
SPRINGFIELD - Illinois Department on Aging (IDoA) Director John K. Holton, Ph.D., today reminded Illinoisan residents about the upcoming deadline to nominate older adults for the 2014 Senior Illinois Hall of Fame awards. The annual award, established in 1994 by the General Assembly, recognizes residents of the state, ages 65 and older who excel in the categories of Community Service, Education, Performance and/or Graphic Arts and the Labor Force. Nomination forms must be postmarked or faxed by Friday, August 22, in order to be considered. (Click here to continue reading)
---
Eye-opening facts about aging eyes and vision problems
(BPT) - Most Americans know that vision problems begin to increase as they age. What they may not realize is that reduced vision is also linked to a higher frequency of falls, injuries and depression. Eye disorders such as cataracts, glaucoma and age-related macular degeneration can rob seniors of their independence. (Click here to continue reading)
---
Illinois Department on Aging raises awareness to prevent elder abuse
Campaign stresses importance of reporting suspected abuse; 24-hour hotline is (866) 800-1409 or TTY (888) 206-1327
SPRINGFIELD - Governor Pat Quinn has issued a proclamation that July is Elder Abuse Awareness and Prevention Month and the Illinois Department on Aging (IDoA) is raising awareness through its annual campaign. Elder abuse refers to a negligent act (physical, sexual, emotional, confinement, passive neglect, willful deprivation, or financial exploitation) by a caregiver or another person known by the victim that causes harm or a serious risk of harm to a vulnerable adult 60 years of age or older. (Click here to continue reading)
---
---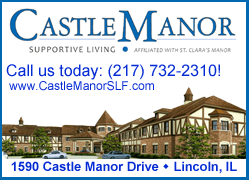 ---
Brady brings consumer experts to aid Logan County seniors
LINCOLN - Illinois State Senator Bill Brady welcomed attendees at his consumer clinic at the Oasis Senior Center on Wednesday afternoon. Senator Brady represents several central Illinois counties including all of Logan County in the Illinois legislature. Representatives from the Illinois Attorney General, American Association of Retired Persons, and the Citizens Utility Board (CUB) were on hand to answer questions from the audience about consumer fraud, and how to save on utility bills. (Click here to continue reading)
---
Seniors willing to discuss driving abilities, yet conversations rarely happen
There are currently more than 23 million licensed drivers aged 70 and older, and with baby boomers beginning to reach 70 years of age, the number of seniors on the road will rise steadily over the next two decades. (Click here to continue reading)
---
Two New Twists in Returning Medical Scam
R
emember those bogus offers for a free medical alert device? That robocall ripoff, which went viral last year, has returned with a vengeance — with two new twists.
But don't be fooled. It's the same old scam that tries to get your credit or bank account information for supposed monitoring fees for the "free" device that never arrives. (Click here to continue reading)
---
IDHS and IDPH join forces to help control prescription drug abuse in nursing homes
June is Illinois Prescription Monitoring Program Month
SPRINGFIELD - The Illinois Department of Human Services (IDHS) and the Illinois Department of Public Health (IDPH) today announced the Prescription Monitoring Program (PMP) Long Term Care (LTC) initiative, an unprecedented opportunity to change the drug prescribing culture in nursing homes. Based upon concerns regarding substantial use of behavioral health medications within the nursing home population, IDHS and IDPH entered into an interagency agreement to reduce the use of chemical restraints and improve the quality of care. (Click here to continue reading)
---