Mid-morning fire at Treu Body Works sends one to the hospital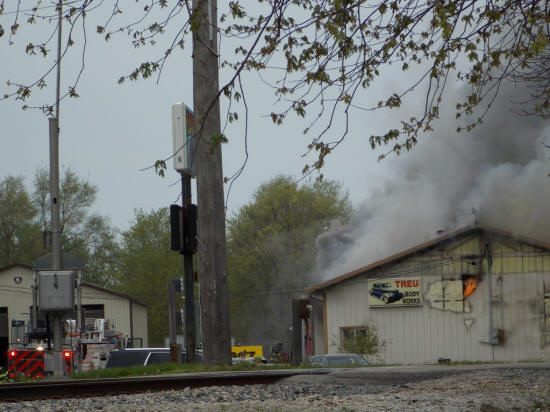 A mid-morning fire at Treu Body Works in Lincoln sent one person to the hospital. There was only one person inside the building when the fire erupted. That person was transported by Logan County Paramedics to Springfield to a burn unit. Steve Siltman of LCPA said that he could not comment on the severity of the injuries or the identity of the victim. Several fire departments were on the scene including city of Lincoln, Lincoln Rural Fire, and the Atlanta Fire Department. LDN will bring further information concerning this fire as it becomes available.
UPDATED AT 8:45 P.M.: On Wednesday evening, Lieutenant Brett Tripplett with the Lincoln Fire Department said that no official report had been filed on the fire yet. An investigation is underway.
Karen Hargis & Nila Smith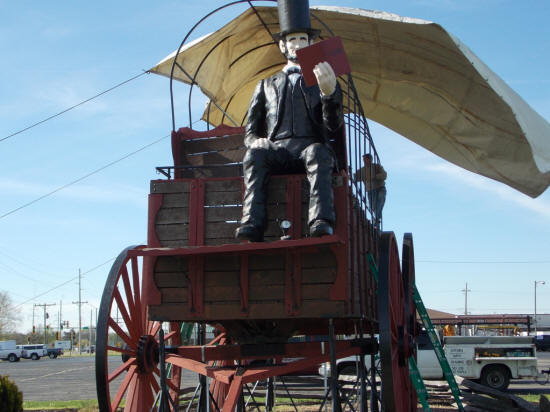 On Tuesday Matthews Construction was out at the Railsplitter Covered Wagon mounting the canopy and getting the wagon ready for tourist season. Matthews said the crew was doing this work a bit early this year. He had been notified by the Logan County Tourism Bureau that Darin LaHood and Rodney Davis would be in Lincoln on Wednesday (today), hosting a press conference in front of the wagon, weather permitting. The topic of the press conference is reported to be Route 66. As one of several Route 66 landmarks in Lincoln and the world's largest covered wagon, it is an ideal location.
Photo by Karen Hargis (click on image for larger version)