Dr. Dennis Campbell will be honored this coming Saturday as the Lincoln College Creekside Environmental Center will be re-named "The Dr. G. Dennis Campbell Creekside Outdoor Center for Environmental Education at Lincoln College." Campbell, shown talking with visitors at the Outdoor Center, has been the driving force behind the development of the center located north of Lincoln. The public is invited to visit Creekside this Saturday in observance of Earth Day, with a special re-naming ceremony to take place at 10 a.m.
Photo provided by Lincoln College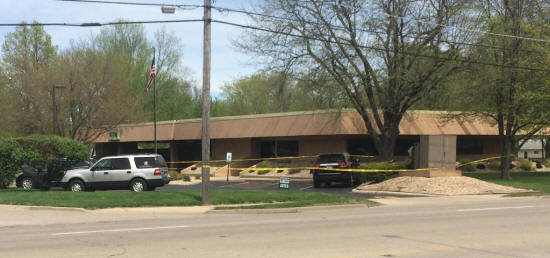 Yellow crime scene tape surrounds State Bank of Lincoln West on Monday. The bank was temporarily closed after a morning robbery. Lincoln Police responded and questioned witnesses who were able to provide accurate descriptions of the suspect and his getaway vehicle. By mid-afternoon, the suspect had been arrested in Sangamon County. The suspect was reported by Springfield news sources as a 31-year-old black male from Lincoln.
Photo by Jim Youngquist (click on image for larger version)