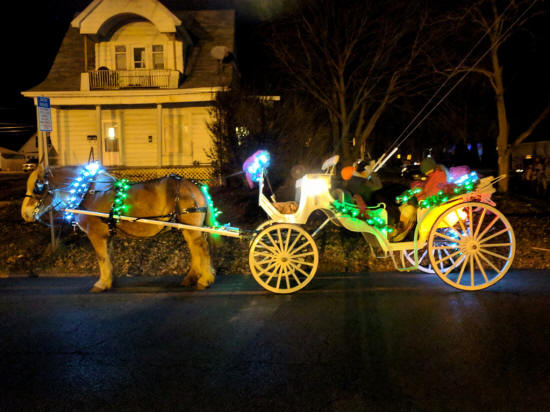 Beginning this evening at 4 p.m. a new attraction will be offered in the downtown Lincoln area. Jason and Keri Erickson will have their beautiful white carriage on the square decked out for Christmas offering free rides to anyone who wishes to enjoy this new experience.
Rides will be given throughout this weekend and next. For more details see the story below.
Photo provided by Jason Erickson (Click on photo for larger version)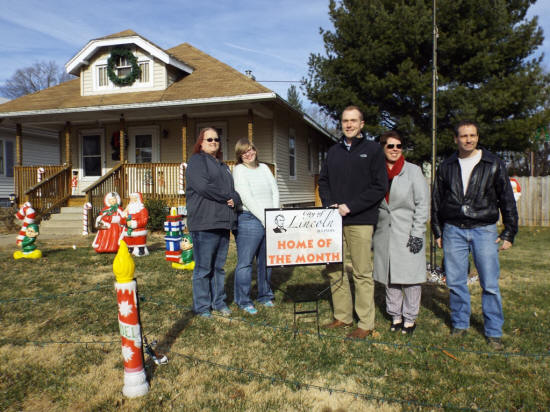 On Thursday morning, Lincoln Mayor Seth Goodman was joined by Aldermen Michelle Bauer and Ron Keller in recognizing the Skaggs Family Light Show as the December Home of the Month. Jeff and Shelly Skaggs decorate their home for Christmas (and also Halloween), then set the lights to music. Those out looking at lights can park in front of the home and tune their radios to 104.3 FM to get the full impact of the dancing lights. Shelly Skaggs was joined on Thursday by Becky Burris who helped put the light show together this year.
Photo by Nila Smith (Click on photo for larger version)
Mike Eads, Administrator of the new St. Clara's Rehab and Senior Care Center addresses a large crowd on Thursday evening at a ribbon cutting ceremony celebrating the new facility. Located neatly between its sister facility Castle Manor and Abraham Lincoln Memorial Hospital, is an expansive, single floor unit designed to give residents and guests a more "homey" feeling. With a number of common areas, large dining facilities, and a coffee shop-like casual social area, outdoor walking areas, and a secure courtyard, the goal of St. Clara's to take the "hospital feel" out of long-term care, looks to have been accomplished.

There will be a public open house for the facility on Sunday afternoon. Look for more from the Thursday evening event in LDN on Saturday.
Photo by Nila Smith (Click on photo for larger version)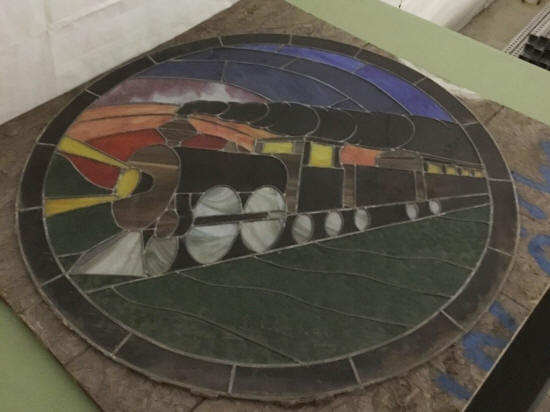 During the grand opening of the Lincoln Depot, some folks may have noticed that the stained glass art located high on the south side of the exterior of the building had been replaced. While that stained glass is not original to the building, it is an important part of the Depot's history. The glass is in need of restoration. The piece measures approximately 40 inches in diameter and is currently being stored at the city's Municipal Services Building. According to Mayor Seth Goodman, the desire is to have the piece restored and returned to the depot, to be placed on display inside the city occupied end of the building.
Photo by Walt Landers, city of Lincoln (Click on photo for larger version)