This is surely a sight one does not see every day, but LDN's Karen Hargis just happened to be in the right spot on Thursday to grab a few shots. Yes, that is a helicopter, and yes, that is some type of wood saw. The helicopter had the saw dangling beneath it and was trimming the trees in the woods behind and across the field from Aldi in Lincoln. Closer inspection of the photos shows that there are power lines nearby. One can only guess that the job was being done by order of the power company, trimming the trees so as to avoid winter damage to powerlines from falling branches.
Photos by Karen Hargis (Click on photo for larger version)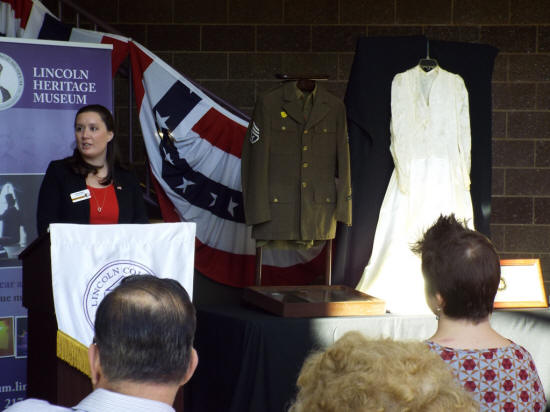 Lincoln Heritage Museum's Assistant Director, Anne Moseley, stands beside a display featuring her grandfather's Army uniform and her grandmother's wedding dress. On Thursday, Moseley was the guest speaker for the annual Peral Harbor Day observance at the college museum. She shared her grandparents Byron and Rosemary Lochridge's story of how Pearl Harbor impacted their lives.
Photos by Nila Smith (Click on photo for larger version)