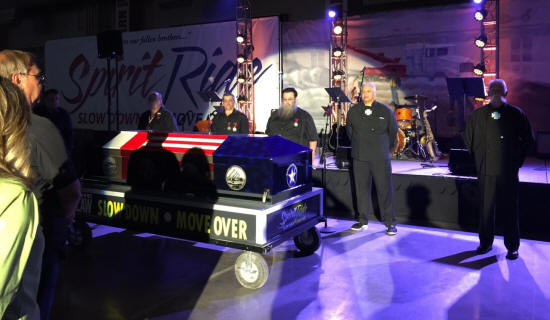 Robert Gaston (third from left) of RBG Towing in Lincoln recently attended the American Towman Spirit Ride Ceremony in Las Vegas, Nevada. The ceremony held on May 11th featured the unveiling of a symbolic and ceremonial "Spirit Ride" casket honoring fallen first responders. The Spirit Ride's Mission is to promote public awareness of Move Over laws in each state. Each year many deaths are reported as a result of careless or distracted driving in the midst of emergency service workers on highways. These workers include police, fire, EMT's, and tow-truck operators. At the ceremony, a statistic was shared showing that of every 100 roadside injuries, 60 involve tow truck personnel.

At the ceremony, the guest speaker was Linda Unruh, a tow company owner from New Mexico, whose son Robert was killed in a roadside incident in March of this year. New Mexico has now passed "Bobby's Law" making it a criminal offense when a motorist fails to slow down and pull over to the far lane when emergency vehicles and personnel are present.

Unruh encouraged all "Road Warriors" (tow truck operators) to take up this cause, and raise awareness in their respective states for the various 'Move Over' laws that exist.
Photo provided by RBC Towing (click on image for larger version)