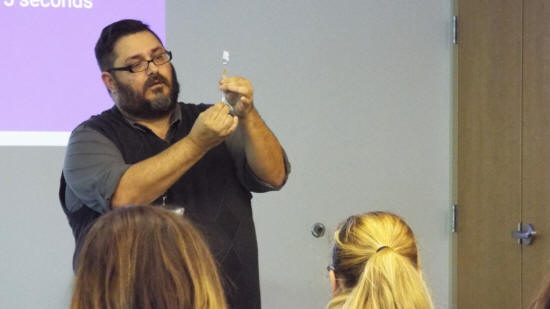 Chris Schaffner of the Human Service Center out of Peoria demonstrates how to fill a needle with Narcan at a Narcan Training Workshop held in October of last year.

On February 17th, Schaffner will return to Lincoln to conduct another free training open to the general public at the 2018 Wellness Expo. The 45-minute training will take place in the ballroom at the Lincoln Park District Recreational Center at 9:30 a.m.

Schaffner will show attendees how to administer the life-saving drug to persons experiencing opioid overdose and will also speak on the symptoms of drug overdose, the effects of drug addiction, the Good Samaritan Law and more. Attendees will also have the option of taking a free Narcan kit. Additional 15-minute training sessions will take place throughout the day in the Wellness Expo vendor area.
Photo from LDN archives (Click on photo for larger version)