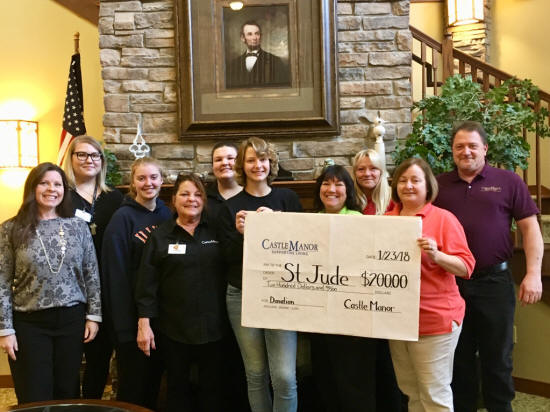 The staff at Castle Manor on a regular basis hold Jeans Day, a day in which for a donation staff may shrug off their normal work attire and wear their favorite pair of jeans to work. The money they pay for Jeans Day is collected and given to a designated charity.

This last collection was designated to go to St. Jude's Research Center, where children with cancer are treated with zero cost to their families. The Jeans Day at Castle Manor brought in a total of $200.

"We have several staff members that have battled cancer and have overcome all the challenges that comes with this diagnosis and it didn't take long for the team to know where they want to donate their funds. Each team member has either been personally affected or has had a close family member affected by this devastating disease," noted Director Marcia Cook.

Surrounded by co-workers at Castle Manor are staff members and cancer survivors Jenni Carlson and Bobbi Coziahr holding the check for St. Jude's. Other staff members, not pictured but also cancer survivors include Amber Bone, Cheryl Berger and Lucinda McArty.
Photo by Castle Manor (Click on photo for larger version)