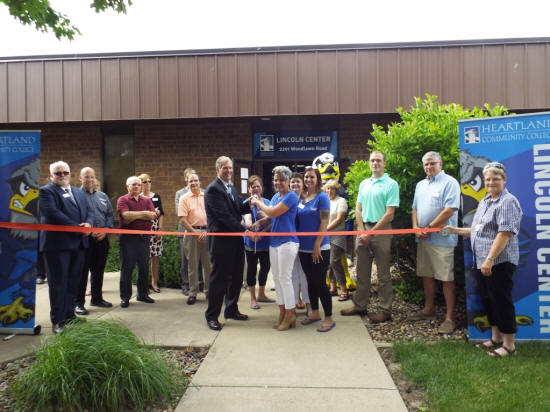 On Thursday afternoon there was a huge turnout at the grand opening ribbon cut and open house at the new Heartland Community College Lincoln Center. Those standing behind the ribbon are only a small representation of all those on hand and consisted of members of the HCC Lincoln staff and faculty, the HCC board of trustees, local elected officials and members of the Logan County Tourism Bureau. HCC President Rob Widmer and Lincoln Center Associate Director Kristi Powell held the scissors for the posed pictures. At the time of the cut, several other staff from the Lincoln Center grabbed hold of the scissor handle and gave assistance as the crowd called out 3-2-1 snip!

HCC is now located at 2201 Woodlawn Road on Lincoln's west side. Summer classes will begin in the new building on June 4th.

Look for more coverage from the grand opening in Lincoln Daily News in a future edition.
Photo by Nila Smith (Click on image for larger version)