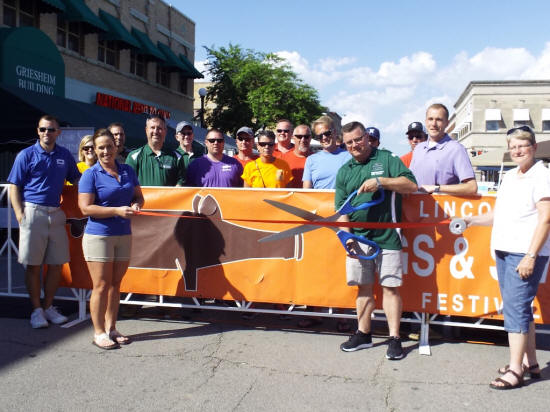 On Friday evening Chris Graue representing the 'Pigs' side of the Lincoln Pigs & Swigs Festival, and Janell Woolard and Blinn Bates for the 'Swigs,' hold and prepare to cut the ribbon as part of the official opening of this year's downtown event. Behind the orange banner were members of local government including those from the city of Lincoln and Logan County Board, many of whom are also volunteers for the annual event. The ribbon cut was an opportunity to express to the organizers, as well as competitors attending the BBQ and Craft Beer Competitions, appreciation for their continued support of the festival.

Photo by Nila Smith (Click on image for larger version)
Dock Dogs made its debut in downtown Lincoln on Friday afternoon. Dock Dogs is a family friendly part of the Lincoln Pigs & Swigs Festival that mom, dad and kids will all enjoy seeing. The fun began early afternoon and went into the evening. The dogs and their handlers compete to see which dog will retrieve his or her toy the quickest, can jump the farthest or the highest, all with a pool of water as the competition arena.

Photo montage by Mitch Douglas
Click on image for larger version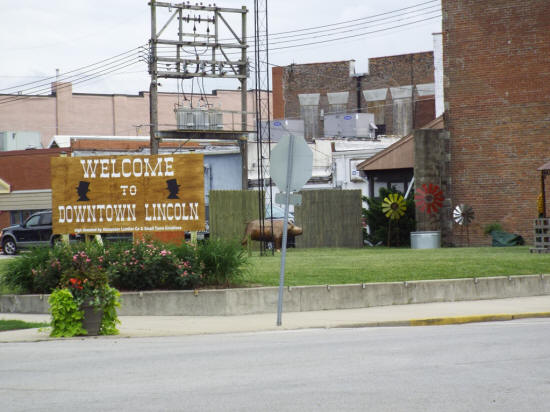 At 10 a.m. this morning, Saturday, there will be a ribbon cutting ceremony at the new Lincoln Welcome Garden. The garden is still a work in progress, but the garden committee consisting of Logan County Tourism Board Members, Emily Davenport and Cindy Fleshman, Tourism Director Cris Wibben, and the visionary behind the garden, Lincoln resident Leslie Hoefle, pushed hard to get a reasonable representation of the Garden in place before the Pigs & Swigs Festival this weekend. The public is invited to come down and take part in the ribbon cutting at 10 a.m. and also explore the Garden throughout the day.
Photo by Nila Smith (Click on image for larger version)