This little gal appears to be a natural at chicken herding. The Logan County Fair Grandstands were filled again on Scrambles Night when kids five years of age up through 17 years old had a chance to capture a chicken, goat, greased pig or calf. The event supplies a great moment for fair competitors and others to be less serious and have some summer-time fun.
Photos by Teena Lowery (Click on Image to enlarge)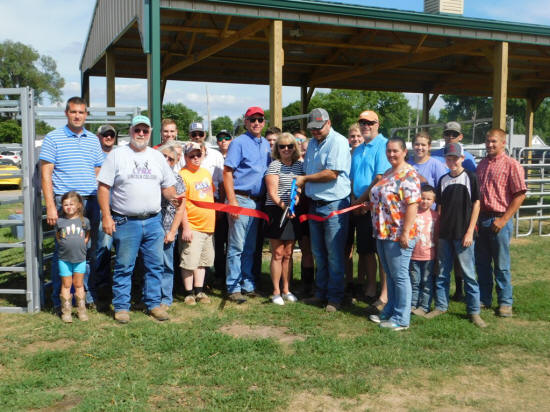 On Wednesday afternoon the Logan County Fair Association honored Chris Martin with an official ribbon cut for the new building Chris Martin has donated. The structure was used that night for the first time for animals entering the scrambles.
The building will be used during the livestock shows, particularly for the cattle. Often, the same handler will show multiple animals.

The building will provide a shelter from sun or other weather conditions when the animals are waiting to be taken into the show ring.
Photos by Karen Hargis (Click on Image to enlarge)