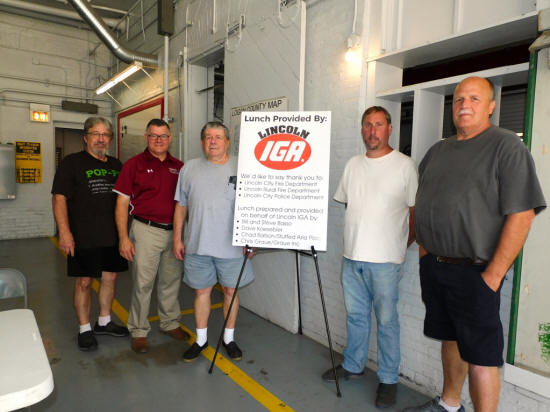 Last week Lincoln IGA owner Charlie Lee called on some good friends, Chris Graue, Steve Basso, Bill Basso, and Dave Kaesebier, to assist him in saying thank you to local first responders. The meal was in appreciation for efforts of the local fire departments to save the majority of the store from fire in June. Lee also wanted to express appreciation to local law enforcement for the quick arrest of a suspect when the fire was determined to be arson to cover a burglary.

A complete meal of BBQ two ways and all the sides were served mid-day on Tuesday, Wednesday and Thursday at the Lincoln Firehouse. First responders from Lincoln Police, Logan Sheriff's Department, Lincoln Fire, Lincoln Rural Fire and Logan County Paramedics were invited to enjoy the mid-day meal courtesy of Lee and his friends who prepared the meal.

From the left: Steve Basso, Chris Graue, Bill Basso, Corey Sutton and Dave Kaesebier assured Lee everyone had plenty to eat.
Photo by Nila Smith (Click on image to enlarge)