The Lincoln Arts Institute September exhibit features the works of late artist John Cassidy.

Cassidy died in 2017, leaving more than 500 works in the care of his friend Matt Erikson.

This month, 76 of those works reflecting Cassidy's Bohemian Style are on display at the LAI. The gallery is open on Friday evenings throughout the month.

Learn more about Cassidy and view some of his works in today's edition of Lincoln Daily News.

Photo by Nila Smith (Click on image to enlarge)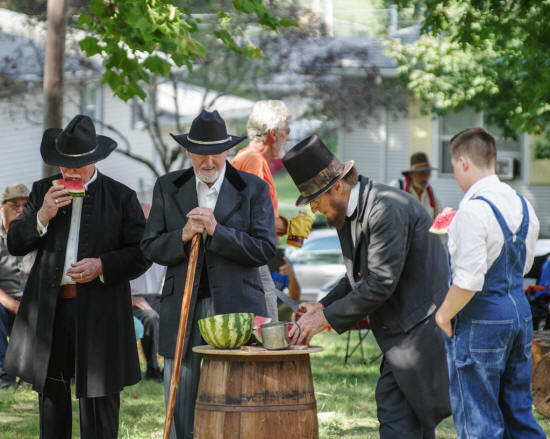 The 2021 National Railsplitting Festival will kick off on Saturday morning with a ribbon cutting in front of the Postville Courthouse in Lincoln at 10 a.m. There will be 1800s crafts and competitions throughout the two-day event ending with the National Railsplitting contest scheduled to start on Sunday afternoon at approximately 3:15 p.m.

Just prior to the final contest, the annual re-enactment of the Abraham Lincoln christening of Lincoln, IL will take place at 3 p.m.

The community is invited to attend the ribbon cutting on Saturday morning and encouraged to come out throughout the weekend and enjoy this wonderful step back in time and reflection of our history.
Photo from LDN archives (Click on image to enlarge)