Darren Bailey

Thomas Devore

Mary Miller

The 2022 Primary Election will be conducted on June 28th. With the election just one week away, three primary candidates running on the Republican ticket visited the Oasis Senior Center on Monday afternoon.

All three hope to win the primary and become the Republican nominee who will run against a Democrat opponent in the November General Election.
Running for the gubernatorial nomination, Darren Bailey was the official host of the 'meet and greet' event. Joining Bailey was Thomas Devore, seeking to be the Republican candidate for Illinois Attorney General, and Mary Miller who hopes to be the Republican nominee United States Representative to the newly mapped 15th district.

Miller left the Oasis event early to visit the Central Illinois Veteran Commission Tiny home projects. There she met with home recipients Scott Jackson and Dave and Tecia Hennessey.

LDN will have additional information about the two visits in a future edition.
Photos by Nila Smith [Click on image for larger version]

---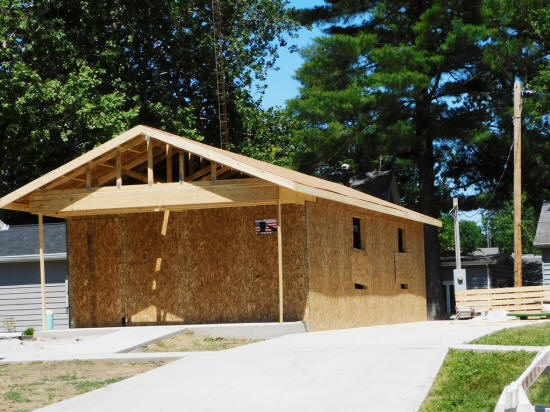 On Saturday, several volunteers spent the day making a lot of progress on the third Veteran Tiny Home in Lincoln. The crew worked hard, intending to get the walls and roof in place by the end of the weekend. This shot of the building site on Monday afternoon looks like that goal was probably accomplished.

See more about the third home in today's edition of Lincoln Daily News.
Photos by Nila Smith [Click on image for larger version]