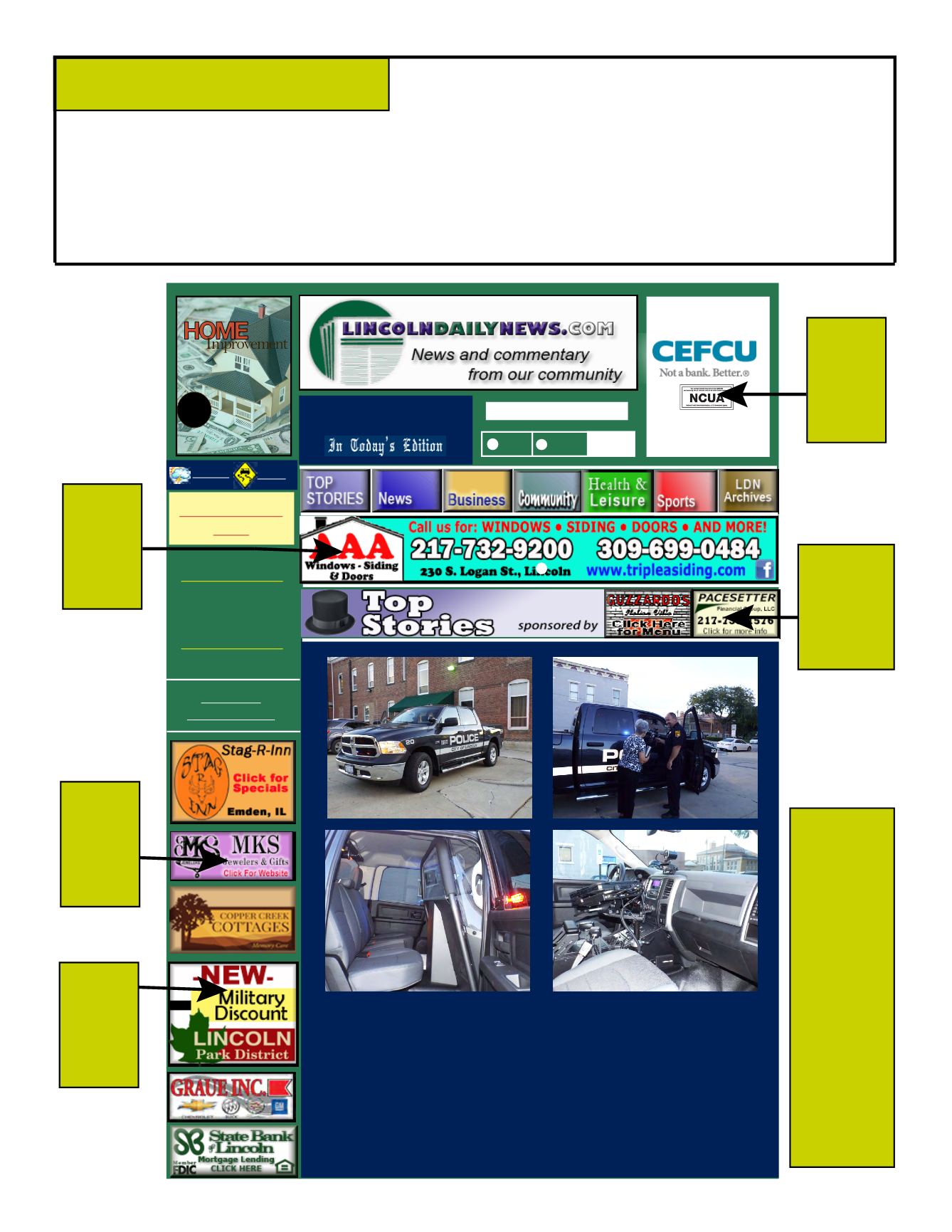 LDN Design:
FALL
September 2016
AspecialSupplementof
Lincoln Daily
News.com
"Avoiding
the
moneypit"
Tuesday, Dec. 13, 2016
published daily from 8am Lincoln, Illinois
On Monday evening, before the weekly meeting of the Lincoln City Council,
Police Chief Paul Adams had one of the city's newest police vehicles in the
parking lot. The new Dodge Ram truck was available for aldermen to take a
close-up look. This year during the budgeting process the city adopted a new
purchase plan that enabled the city department to replace several old vehicles
at once. The vehicles were purchased locally from Lincoln Chrysler, Dodge,
Jeep, Ram, and were also financed locally through the State Bank of Lincoln.
The vehicles purchased were a combination of Ram trucks and Dodge Durango
SUVs.
Photo by Nila Smith [Click on pictures for larger images]
Weather
Roads
CLASSIFIED
ADS
Got a news tip?
Click here to email
or call 217-737-3613
Need Advertising?
Click here to email
or call 217-737-7418
Ad Tracker
Advertising Info
Search
www
. .
www
LDN
Click here for
complete details.
Federally Insured
by NCUA
This is a portion of LDN's Top Stories. The news is presented with advertising
gracefully woven in the space. We feel that the advertisers are a very important
part of the community and need adequate exposure.
There are various types of ads on this portion of the front page alone.
A great opportunity to get your message out!
Front
Page
Corner
Ad
Front
Page
Button
Ad
Front
Page
Banner
Ad
Section
Sponsor
Button
Ad
Each of
these
ads
include
a link
to your
website,
facebook
page or a
flyer.
Double
Front
Page
Button
Ad