Eagle store waiting

Send a link to a friend
[AUG. 11, 2003] Mostly false rumors have circulated for over a year about the security of the local Eagle Discount Foods store. The lead sentence in Saturday's article in a local paper that reads "Lincoln's Eagle Discount Foods will close around the end of September" is false at this time and is misleading.
"I don't know how they could print that, because we don't even know at this time," Eagle Food Vice President Pat Flatley said on Monday morning.
The entire chain of Eagle Food stores has been under reorganization since filing Chapter 11 in April.
The chain that boasts personal friendliness with the slogan "Big town variety, competitively priced and we still have the pony ride!" is now selling all of its stores. This has been a process that began many months ago, Flatley said.
At this time all the stores are up for sale in a sealed bid process. The deadline for bids is Aug. 12. None of the bids has been or will be opened until that date.
The majority of stores are expected to be sold through sealed bids.
[to top of second column in this article]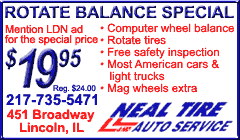 We don't know the status of any of the stores at this time, Flatley said. The one thing Flatley could say is that after being sold the stores may be different and under a different name.
There will be an auction of the unsold stores. It is anticipated that some people may wait to bid on the stores at that time.
If there is no interest in a store at the end of those processes, then a store, including the Lincoln store, would be closed and the equipment sold at auction, Flatley said.