Wacky Central gets wackier…
Just when you thought you might have a handle on the Central Division in both leagues, they both turned wackier. Let's handicap them the rest of the way:
Houston: Still our odds-on choice to win it. But, have pitchers who are still trying to find themselves? Maybe enough pitching and too many big bats to be denied.
Chicago: Now there is no doubt… The best starting pitching in the division, if not the game. Should have enough bat strength to contend to the end. Cubs are way overdue at Busch. Dusty could be the "X" factor!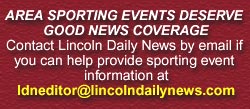 St. Louis: Win it or lose it, Tony has done a remarkable job with this injured and hobbled mob. Sometimes he and Dave out-manage themselves, but maybe that's due to patchworking these lineups (however, I STILL wouldn't have pitched to Thome on Friday). At any rate, Pujols looks like he's out of gas, and how many more players are near the same condition? The good thing is they seem to control their own destiny. Help like they got from DeJean (who recorded his first STL save and 19th on the season yesterday) could make the difference.
AL Chicago: Many left the Sox for dead BEFORE the season even began. Others have been doing it weekly, since the Jerry Manual death watch has been a regular routine. Methinks that the Sox have enough offense, but will their pitching hold out? I'd love to see it, but those sneaky Twins are lurking…
Minnesota: Gardenhire fired up his team by calling them out a few weeks ago, and they have responded like gang busters! They're an exciting young team that plays good defense and is fundamentally sound. If this race goes the distance, don't count them out. I would pencil them in as the team to beat because, despite their youth, they do have the experience.
Kansas City: If Tony Pena is not the manager of the year, then I ought to be the coach of the Lakers (can anyone in LDN-land set that gig up for me?)! Of the six teams I've talked about, Pena's club is the loosest! The chemistry he has built with the Royals is astonishing. They have believed all year, but sometimes it's hard to believe in September.
Wild cards: If you think that the Centrals are wacky, then don't even bother to look at the wild card races. They are plain sick! Of course I'd love to see Oakland win it in the AL if they can't surpass Seattle in the division, but don't count out Boston. They seem to be on roll of late. Philadelphia looked like world beaters when St. Louis was in town last week, but they looked a lot more vulnerable this weekend. I'd like to glance in a crystal ball somewhere and tell you what I see, but I can't figure these wacky races out at all. My advice… Pick 'em!!!
Darren Clarke beats Tiger again
Going into this weekend, Darren Clarke had won one PGA tour event and he beat Tiger Woods to do it. He did it again this week. I guess you can now officially say that Tiger is in a slump. Notice that I said, "You can say"! (I don't want Woods to look me up at the Elks; I have enough trouble on my own!) Clarke also disposed of Singh, Love and Riley along the way to collecting his cool million. Don't you think we should have some LOCAL tourneys where the purse is a million-plus? (And of course we would use our handicaps, etc.)
[to top of second column in this article]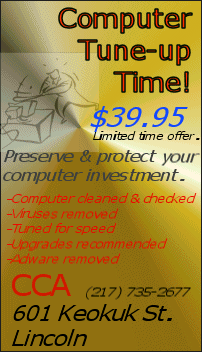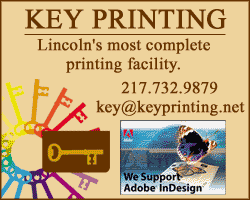 How 'bout those Illini
Don't know if you noticed it or not, but the Illinois Fighting Illini hoops squad just returned from their march through Europe, where they amassed a sparkling 6-0 record. Not a bad start for coach Weber and the boyz! It appeared as if ALL Illini players were playing well, especially on the offensive end. Defense still worries me, but I'll give the coaching staff time to work it out before November.
And speaking of November, because the Illini took that trip, the NCAA is now saying that Illinois will not be able to open the season in New York against Pittsburg… What's that all about? Do you think the NCAA or the IHSA really wants to mess with the LDN some more? They have taken a beating and they're back for more???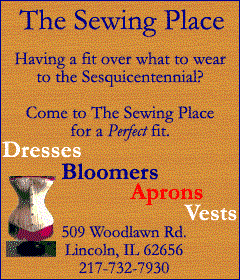 Football Illini nearing season opener
The big Mizzou bash looms on the horizon this Saturday, but of course I'll be skipping it in lieu of our sesqui parade. Is that commitment or what?! I have been so removed from the gridders that I have absolutely no feel for what this team can accomplish. Hopefully, a little trip through last year's game film was all the motivation the Illini would need, but you never know. If the defense is better, especially the first four or five games, then I think Illinois could go 7-5 or slightly better. However, if it is like it was versus San Jose State and Michigan, it could be another long year. I am excited about them and always wish them the best.
Keep an eye out for local volleyball, soccer teams
The last few years, Lincoln and Logan County have been the capital of outstanding prep and collegiate volleyball. We see no reason whatsoever that that will change this season. More evidence to support that theory will be arriving here soon!
Also, keep an eye on our local soccer teams. Many of them are operating with new coaches at the helm who are ready to make some statements.
Farewell, Brian Cook
In the midst of 100 things going on this weekend, I did have the opportunity to drop in and say goodbye at the Brian Cook farewell party. Brian appears poised and primed to go out and make his own statement in Tinsel Town. Just wanted to publicly say thanks again, BC, for all the fun and all the memories! And remember, as you and Melissa go west, there are literally hundreds of people who are cheering and supporting you both!!!
"FANdamonium" lurking and looming
That's right. Whether you're ready or not, Greg and I will be piped back into your homes, starting on Sept. 8. At that time, Greg will update us on the Cubs, the Illini and the Bears, and Jeff will catch us up with the Railers, the Cards, the Rams and the Colts (and we're sure that some of our wacky callers will update us on that cheesy team)! Same bat time, at 6 p.m., and we'll be awaiting your calls at 735-3306.
Tip of the LDN hat…
To our local chamber of commerce and to the hundreds of volunteers who made the art and balloon fest so great and for getting the sesquicentennial off to a super start! I truly believe that this is one of the best events in Illinois every year, and it wouldn't be so if not for the unselfish efforts of so many. Thanks to all of you for putting so many smiles on so many faces, especially the younger ones in the crowd!!!
Have a GREAT week, everybody… and GO Railers and Illini!!! And happy 150th, Lincoln!!!