'Who Let the Dogs Out' dogs
looking for homes

Send a link to a friend
[AUG. 29, 2003] Lincoln shared in another great art and balloon fest last weekend, and this week we've continued that success with many sesquicentennial celebrations! Main Street Lincoln hopes that everyone has had a great time thus far, and the fun is far from over!!
Friday, Aug. 29, we will auction off our "Who Let the Dogs Out" artwork that has been on display throughout the summer. Please join us at the sesquicentennial Main Stage, Broadway and Kickapoo, at 8:30-9:45 as all 15 dogs search for new homes!!
Who knows, maybe one of these lucky pooches will go home with you!!
Thank you again to all of our sponsors:
Row Motors
Elkhart Grain
Cookies Bakery
The Mustard Moon
B & D Building
The Courier
JM Abbott & Associates
McEntire's Appliance
Dr. Kristen Green-Morrow
Lincoln Public Library
Coffee with Einstein
Bassi Construction
Hazel Alberts
Jim Xamis
Logan County Arts Association

[to top of second column in this article]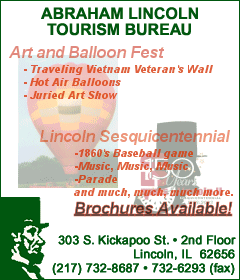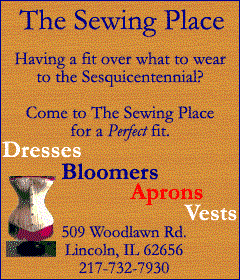 Thank you to our artists:
Debbie Andrews
Susie Thomas
The Red Hat Society -- Abe's Babes!
Linda Churchill
Karen Miley
Chris Slack
Scott Lindley
EJ Miley
Lisa Madigan
Sara Davis
Nathan Hall
AMP Studio
Phyllis LaMothe
Jan Ulrich
Jean Borton
Judy Busby
Pat Purseglove
Hazel Alberts
Nick Xamis
Shanda Roderick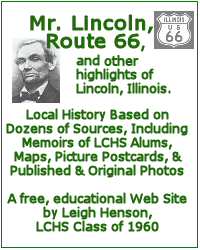 Thank you to the retailers who provided our dogs with their summer home:
Row Motors
Mission Mart
Cookie's Bakery
Integrity Data
Abe's Carmelcorn
Sorrento's
The Award Shop
McEntire's Appliance
Fitness Balance
Closet Classics
Coffee with Einstein
AMP Studio
Hazel Alberts Real Estate
Serendipity Stitches
Treasure Chest
[Main Street Lincoln news release]