Lincoln Daily News.com
601 Keokuk St.
Lincoln, IL 62656

TEL: (217) 732-7443
FAX: (217) 732-9630
Lincoln Daily News publishes daily news about the Lincoln/Logan County area on the Internet at www.lincolndailynews.com. (We are not a print publication.) All subscriptions are free!
Content:
The articles published in Lincoln Daily News are the result of research, interviews and news releases submitted. Any opinions expressed are those of the writers.
Our staff:
In the office
Managing editor: Jan Youngquist
ldneditor@lincolndailynews.com
Technician, photo editor, graphic designer:
[Click here]
Text processing: Mary Krallmann
Advertising sales and public relations:
Lucky Eichner: ads@lincolndailynews.com
For employment information, contact us.
Our mission:
The mission of Lincoln Daily News is to tell the stories of Logan County in a contemporaneous manner, with lively writing and a predilection for simple truth fairly told. Lincoln Daily News seeks a relationship with the good people of Logan County that is honest, neighborly and never patronizing. Lincoln Daily News presents news within a full context that contributes to understanding. Lincoln Daily News is more interested in the marketplace of ideas than the competition of personalities. Without shrinking from the bold delivery of unvarnished fact, Lincoln Daily News operates from the premise that God's creatures deserve the presumption of right motive. Lincoln Daily News eschews malice and cynicism; it approaches every person with dignity and every subject with equanimity. In short, Lincoln Daily News informs, stimulates and entertains.
Corrections:
Please contact us by phone, fax, mail or e-mail with any information about mistakes, typos or erroneous information. If the error is in an item that is still in the paper, we will correct it online immediately.
Our services:
Lincoln Daily News provides daily news, sports, features and commentary on Lincoln, Logan County and the surrounding area.
To promote local businesses, we offer display advertisements at very reasonable rates and links to business websites. Call (217) 732-7443 or
e-mail ads@lincolndailynews.com.
To submit classified ads, click here.
"Happy ads" are a special feature to enable our readers to celebrate birthdays, graduations, anniversaries and other good news. Call us for details.
The Lincoln Daily News publishes letters to the editor as they are received.
The letters are not edited in content and do not necessarily reflect
the views of Lincoln Daily News.
Lincoln Daily News requests that writers responding to controversial issues address the issue and refrain from personal attacks. Thank you!
.
Please send your letters by e-mail to ldneditor@lincolndailynews.com or by U.S. postal mail to:
Letters to the Editor
Lincoln Daily News
601 Keokuk St.
Lincoln, IL 62656
Letters must include the writer's name, telephone number, mailing address and/or e-mail address (we will not publish address or phone number information). Lincoln Daily News reserves the right to edit letters to reduce their size or to correct obvious errors. Lincoln Daily News reserves the right to reject any letter for any reason. Lincoln Daily News will publish as many acceptable letters as space allows.
Dear Editor:
We at Logan County ESDA would like to take this opportunity to thank the many disaster workers who helped in various ways by responding to our most recent locally declared tornado disaster of May 30. The special efforts of the responders during that night, including the various weather spotters, fire, EMS and law enforcement agencies who collaborated on the impacted area's safety needs, were greatly appreciated.
Thank you to the long-term debris management workers from IDOT, IDOC, IEMA, Lincoln Rural Explorers, YMCA, Job Corps, Lincoln FS, Lincoln Ag Center, Logan County Highway, city of Mount Pulaski, city of Lincoln and to all who heard the page and called the office or showed up. Thank you to the American Red Cross and the many grocery stores and restaurants in Lincoln and Logan County who donated food or had it sent out to the impacted area. Thank you to the farming community for the great network you have in helping one another. A special thank you for those of you who stayed at home and prayed for the victims that had been impacted.
We also send a special thanks to the many elected officials who offered their support, especially to Dale Voyles, Dick Logan and Rep. Mitchell, who walked beside us through the whole process.
We at Logan County are no strangers to emergencies or disaster, and our response will continue to be the same, as we know your continued help will only be a request away.
Yours truly,
Dan Fulscher
Terry Storer
Logan County ESDA
(posted 6-21-03)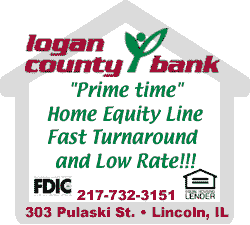 To the editor:
I would like to commend your publication for its wonderful article writing and its support and concern for the upcoming sesquicentennial celebration. It's odd how I can read an article that you have published and feel comfortable and pleased about the accuracy of the material and its presentation, but then when I pick up a local newspaper and read news about the same subject and circumstances, I am disgusted with what I've read. I really enjoy your articles and your methods of writing.
Unfortunately not all news is going to be good, and I don't believe in sugarcoating it if it's not. I do, however, believe that we should focus on finding the positive side of events such Lincoln's sesquicentennial and find ways of overcoming negative issues that arise.
Somehow when all you can read in the news is about all the problems and lack of cooperation, it can cause a person to loose the drive that they started out with on such a project like the celebration.
Please keep up the wonderful support of our community and its activities. I know it makes me feel better each time I can read an accurate follow-up of current happenings.
Sincerely,
Greg Pelc
Rock Solid Sound & Stage Productions
(posted 6-14-03)
[Lincoln Daily News article by Jan Youngquist, posted June 11: "Lincoln Sesquicentennial Committee seeks city approval of celebration plans"]