Ace Hardware set to reopen with new owners at a new location in Lincoln
[JULY 1, 2003] Bishop Hardware & Supply Inc. will be opening an Ace Hardware store in Lincoln in the fall of 2003. The local store, the eighth for Bishop Hardware, will be located at 521 N. Kickapoo, currently the Moose Lodge building.
Bishop Hardware is a family-owned-and-operated business with its headquarters in Springfield. The new Lincoln store will employ approximately 20 people and will feature convenient and knowledgeable customer service. The store's slogan will be "The Helpful Place." The merchandise selection will focus on paint, tools, electrical plumbing, fasteners, housewares, and lawn and garden products.
Bishop Hardware's current store locations are in Carlinville, Havana, Jacksonville, Normal, Taylorville and two sites in Springfield. Plans are for the new store in Lincoln to be open in late October and to open several more stores next year in the central Illinois area.
Ace Hardware Corporation is a cooperative of 5,000 retailers, each individually owned. Ace is the largest hardware cooperative in the United States, and Bishop Hardware is one of the top 20 Ace store operators.
Quotes
"We are excited and happy to be coming to Lincoln, Ill. As soon as we found out this territory was available, we started looking for a location here." -- George W. Preckwinkle, president.
[to top of second column in this article]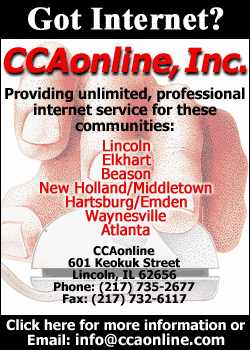 "Everyone we have met here is friendly. It's working with the local people that adds to our excitement. To take care of the needs of Lincoln, we're completely remodeling the building as well as adding a garden center and storage area." -- Lucy Bagot, executive vice president.

"This announcement today is one of the highlights of my time as the new director of economic development. The EDC, the chamber and I have all worked with Lucy and Ace Hardware since my first few days on the job. We are certainly excited to welcome the Preckwinkle family to our community. We are indeed hopeful that this will be the first business of many to locate in Logan County this year." -- Jeff Mayfield, economic development director
People interested in more information can contact Lucy Bagot, Executive Vice President, Bishop Hardware & Supply, Inc., 214 N. Walnut St. Springfield IL 62702; phone (217) 529-5673.
[Press release]