Logan County Title Company
celebrates centennial

Send a link to a friend
Pictures from Logan County Title ice cream social
[JULY 11, 2003] What could be better to celebrate the anniversary of a long-standing, community-based business that focuses on personal service than an old-fashioned ice cream social? That is just how Logan County Title celebrated their first 100 years. The public was invited, and old friends, new friends and business associates joined the Logan County Title staff and the Joan Parker family for hot dogs, ice cream, watermelon and lots of fun on the hot afternoon of July 3 in beautiful, breezy Scully Park.
Logan County Title Company, 507 Pulaski St. in Lincoln, began operation July 1, 1903. The company was founded by Lynn R. Parker to provide abstract and title work to residential, commercial and agricultural clients throughout Logan County.
"We feel so fortunate and thankful for the way the community has embraced our family-owned business for four generations now," said Joan Parker, president. "Who would have thought that we'd be here today after Lynn was 'fired' from Logan County Abstract as two companies merged, only to start his own title company and eventually buy his former employer in 1910? Lynn loved the business so much that he was doing title work until three weeks before his death in 1969 at age 92."
After the company incorporated in 1930, Lynn's son, John R. Parker, while not active in daily operations, was an officer in the title company and also served as secretary of the Illinois Land Title Association. Lynn's grandson, D. Brewster, took over managing the title company in 1969 and served until his death in 1994, when his wife, Joan, became president. Joan's sons continue the family tradition, with Jonathan serving as vice president and Christopher as a director.
[to top of second column in this article]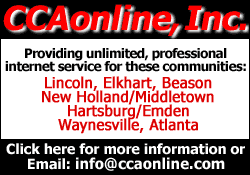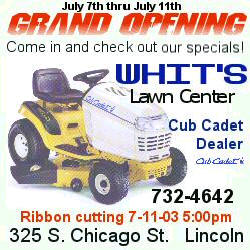 "It's a great source of pride that we've been able to keep our business viable and growing for 100 years," said Parker. "Celebrating our 100-year anniversary as the town of Lincoln celebrates its 150th is also very special."
In addition to the Parkers, the Logan County Title staff consists of Bonnie Young, title examiner; Karen Sampson, commitment and policy production; Jennifer Awe, closing and construction escrow; Denise Martinek, title searcher; and Barb Peddicord, receptionist. Former Lincoln businessman Jim Orr also is conducting marketing and customer service activities on a consulting basis with Logan County Title customers.
"The business has certainly evolved over the years," said Parker. "Our work was 75 percent abstracts fewer than 30 years ago. Now it's 95 percent title work. Adaptability; willingness to embrace emerging technologies; a loyal, hardworking staff; and a solid community -- those have been our secrets to longevity."
[Press release and LDN]