Remember when baseball was so fun, all they had to do was go out there between the lines and get it on?! I guess as the world gets crazier, we shouldn't be surprised to see the sports world follow suit. I'm just sad that as my son gets older he'll read in the sports pages about lawsuits, mega-stars in trouble with the law, cheaters, etc., instead of just sports. With all that being said, I'm still glad there are a few players who realize that the game is so much more important than they are and they continue to play it at a professional level. Let's get after it…
Cubs limp into the break
With longtime hero Sammy Sosa batting .347, including 12 homers and 24 RBIs in 25 games since his little bat incident, you would think that his Chicago Cubs would be on a roll. That is not the case. The Cubs lost three of four to Atlanta and 13 of their last 19 and now find themselves three games behind the Houston Astros.
This reporter predicted a showdown between those two clubs; we'll see if that materializes (he hadn't counted on the Cards making such a run through all their injuries). Mostly I think that the Cubs are just a little weary right now. Other teams had their dry spells earlier in the year, while the Cubbies have just hit theirs now.
Take heart, Cub fans. ESPN's Rob Dibble still thinks the Cubs will win the division, "hands down"! If you're looking for more and better solid proof, you might glance at the schedules. St. Louis has a brutal schedule the rest of the way. Houston and Chicago should have the edge there.
You have to love Chicago's starting rotation, and if you can eat up innings in late July and August, that's where pennants are won!
Cards show signs of life with sweep of the Pads
After you felt that the NL West had just knocked the Cards out of contention, St. Louis goes out and sweeps the San Diego Padres.
It couldn't have come at a better time. The bullpen woes have continued, starters are starting to get knocked around, and now we hear that Ricky Ankiel will not be rejoining the club. Instead, he had season-ending surgery on his elbow. Can anything else happen to this kid? Talk about the king of bad luck. This guy may be a train wreck waiting to happen. It's a good thing that the Redbirds' everyday lineup outscored a lot of opponents or the Cards might already be out of this race.
If Albert Pujols isn't one of the two or three best players in the game right now, we don't know who is. He hit his first ever walk-off home run Saturday night to help ensure the sweep. Jim Edmonds has hit safely in something like 10 games. And what can you say about the production of Bo Hart since his call-up? Not only has he hit the cover off the ball, but his steady and sometimes flashy defensive play of late have caused many to take notice.
However, if the Birds don't get healthy fast, is it even realistic to think they will hang around in this race for long? Especially when you consider starting the second half with a grueling seven-game road swing out on the West Coast. Take heart though, Redbird rooters, your Birds have a combined 100-53 record over the last two years during the second halves. If they can replicate those numbers once again, I'll feel a lot better about their chances.
[to top of second column in this article]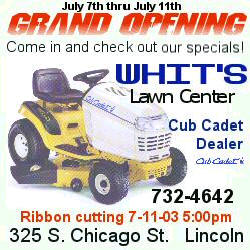 Summer hoops?
I guess Lon Kruger was right. He once told me when I asked him if summer basketball was overkill, "What do you think the kids in Indiana and Michigan do during the summer?" I wanted to tell him that I really don't care what those jokers do! However, professional decorum wouldn't allow it.
At any rate, I got a sneak peak at some of the nation's hottest prep stars this past week. I was working long hours at LCC's booth at our churches' national convention in Indianapolis. Just three or four blocks away was the famous Nike camp for high school hoops superstars. I skipped a lunch and moseyed on over to the camp.
My personal highlight was watching part of the action with former Illini coach, Bill Self. I know that some of you hate him and never want to see him or hear about him again. I can't do that. I got too close to him and I value his friendship. In fact, after seeing him this week, I finally feel some closure about this whole thing.
I also met the new brain trust of the Illini, Bruce Weber, and his assistant, Jay Price. They wouldn't share their notes, but they seemed to be watching a lot of the same guys that Pitino, Williams and Izzo were watching. I'll write more about this in future editions.
Quick hitters
--Lance Armstrong has captured the yellow jersey three to four days sooner than he did the last two years! Could he really win the Tour de France again
--How 'bout the play of Kenny Perry? He is now getting so confident that he might be able to pull off a major!
--Craig Stadler easily won the Champions Tour event because he developed the hottest putter that he's displayed in years.
--Not lost in the shuffle was the continued hot play of Tom Watson. I don't know if he's playing well because his caddie is sick or what, but he seems to be on fire every week.
--Ernie Els won the Scottish Open and awaits Tiger at the British. Phil has been quietly working on his game on his own.
--Lincoln resident Bill Hull, who recently visited the St. Andrews course, told me he doesn't know how anybody can hit golf shots into that wind, especially that north wind off the ocean!
--If you're looking for a nice way to cool off this summer and no one will take you to the British Open, check out one of our local swimming pools. Both the Rec pool and the Elk's seem to be operating at full capacity and loom as a great way to beat the heat!
That's it for me… Have a great week, everybody!