Lincoln Heat Pony division takes state title, advances to zone finals

Send a link to a friend
[JULY 29, 2003] Lincoln Heat won against Quincy YMCA 4-3 in the state Pony Baseball finals on Friday at the Lincoln Recreation Center.
The Lincoln traveling team has a lot of talent. "This is the first time that Lincoln Pony Baseball in any league has advanced this far," said Dean Colby.
The team now advances to zone finals in Bay City, Mich., starting this Thursday. Eight teams representing the region will compete at the North Zone finals. The Lincoln Heat will meet up against teams from Joliet, Chicago and Kankakee, as well as Iowa, Tennessee, Kentucky, Ohio and Michigan.
The tournament proceeds in pool play. The teams will be divided into two pools and will play the other teams in their pool one time. The winners of the two pools will then enter a single-elimination tournament on Sunday.
The zone winners advance to the PONY League World Series in Washington, Pa., Aug. 9-16.
[Jan Youngquist, pictures by Bob Frank]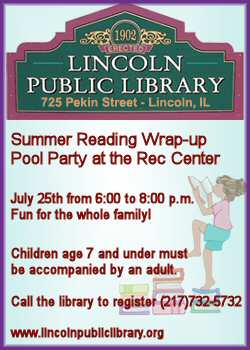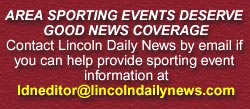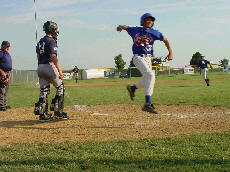 Duncan crosses the plate in a go-ahead run in a seventh inning.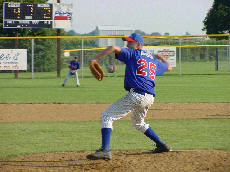 Schick in the windup.