$500,000 windfall coming
Lincoln's way

Send a link to a friend
[JULY 29, 2003] Lincoln Mayor Beth Davis received a call from U.S. Rep. Ray LaHood that brightened her day. LaHood was calling to say that the city of Lincoln has been awarded a $500,000 federal HUD/VA wastewater treatment plant grant.
The city broke ground on a $9.8 million plant development last November. [See LDN article.] New EPA regulations and an increasing usage demand while already operating at full capacity made the plant upgrades and expansion a necessity. Though federal and state funds were sought, none had come through for the project to date.
Mayor Davis and three aldermen -- Bill Melton, now retired former chair of the sewer committee; Verl Prather, chair of the finance committee; and Steve Fuhrer, former finance chair -- along with Grant Eaton, sewer plant manager from Environmental Management Corp., created a legislative task force. With EMC in the lead, the task force took an expedition to Washington, D.C., on Jan. 22 and 23 to seek funds for the project.
[to top of second column in this article]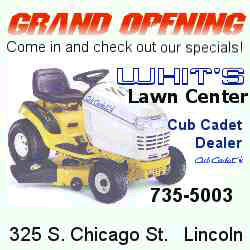 The grant has just passed through the bills committee. The bill will need to be passed in full measure by both the U.S. House and Senate by or near Oct. 1. If the bill passes both houses, the money may be available to the city as early as Jan. 1, 2004.
Mayor Davis said, "[The trip] will have paid off for the city if the bill passes in its entirety, which Congressman LaHood believes it will."
She added, "I just want to publicly thank Congressman LaHood, U.S. Sen. Dick Durbin, and U.S. Sen. Peter Fitzgerald for their work on this grant, as well as the city council members and EMC who assisted me in this endeavor."
Davis said this is great news for our city!
[Press release and Jan Youngquist]