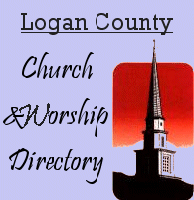 Holy Family Parish
316 S. Logan
217-732-4019
Priest:
Msgr. E. Edward Higgins
Associate:
Rev. Thomas Taylor
Mass:
Sat. 5:00PM
Sun. 7:30AM, 9:00 AM
& 10:30AM
Lincoln Christian Church
204 N. McLean
217-732-7618
Preaching minister:
John Castelein
Worship:
8:30AM & 11:00AM
Website: www.lincolnchristianchurch.org
Trinity Episcopal Church
402 Pekin St., Lincoln
217-732-7609
Pastor: James Cravens
Worship:
7:30 & 9:45AM Sunday
9:00AM Wednesday
Kingdom Life Ministries
2500 Woodlawn Road
217-732-1466
Pastor: Joe Bennett
Worship:
10AM & 6:30PM Sunday

Lincoln Bible Church
2316 N. Kickapoo St., Lincoln 217-735-5959
Pastor: Don Hoover, phone 217-735-4641
Worship: 10AM Sunday
Sunday School: 9AM
Prayer meeting: 6:30PM
Kids in Christ's Service (1st-6th): 7PM Tuesday
Teen Club (7th-12th):
7PM Wednesday
Overcomers in Christ:
7PM Wednesday
Good Shepherd Lutheran Church Association of Free Lutheran Congregations
1140 N. State St., Lincoln
217-735-9320

Worship:
10AM Sunday
Sunday School:
9AM
E-mail: gslc@ccaonline.com
Immanuel Lutheran Church ELCA
1409 Pulaski St., Lincoln
217-732-6777
Pastor Dan Wissmann
Worship:
9:00AM Sunday
10:15AM Sunday School
First United Methodist Church
302 Broadway St., Lincoln
217-732-2204
Pastor: Jame Hahs
Worship:
8:30 & 11AM Sunday
Sunday School:
9:45 AM
Website: www.gbgm-umc.org/
lincoln1stumc/index.html
To inquire about listing your congregation's worship information, please e-mail us at ldn@lincolndailynews.com or call us at (217) 732-7443.
First Harvest of Talents speaker returning for 20th anniversary

Send a link to a friend
[OCT. 4, 2003] Gene Shepherd of Anaheim, Calif., has accepted an invitation to be guest speaker for the 20th anniversary celebration of the Harvest of Talents for World Hunger at Lincoln Christian Church. Shepherd, currently serving as senior pastor of Anaheim First Christian Church, served on the staff of Lincoln Christian Church from 1975 to 1985. As minister of the Lincoln Church, Shepherd preached the February 1984 sermon that kicked off the first Harvest of Talents for World Hunger.
Recalling the first Harvest, Shepherd notes that he wanted to weave some rag rugs to donate but lacked the time to prepare the material. He contacted the older women of the congregation, promising to weave up all of the rags they would prepare for him. Within days he began receiving garbage bags filled with rag balls, resulting in the 22 large rag rugs he wove for the first Harvest of Talents.
In the last 20 years Shepherd's interest has evolved to making traditional hand-hooked rugs. His rugs have received national recognition. He is presently commissioned to make two rugs for Hyde Park, N.Y., and the Roosevelt family. His interest in rug making extends to teaching rag hooking classes and running large rug camps in the summer. He writes with regularity for rug hooking publications and serves on the board of the National Association of Traditional Hooking Artists. Shepherd's gift to the 20th anniversary Harvest auction will be a hand-hooked rug in an original design of oak leaves in fall colors.
Harvest founder Pat Snyder noted that the Harvest of Talents ministry team was pleased to have Shepherd as guest speaker, stating that Gene "considers the Harvest of Talents to be one of the greatest and most satisfying aspects of his professional career." He has aided congregations in California in setting up and conducting Harvests. Shepherd, a graduate of Lincoln Christian College and Seminary, resides in Anaheim with his wife, Marsha. The Shepherds have two daughters, Ruth and Ann, and two grandchildren.
The Harvest of Talents for World Hunger, traditionally on the fourth Saturday in October -- Oct. 25 this year -- calls upon participants to use their God-given gifts and abilities to raise funds for world hunger.
Doors open at 7 a.m., when a continental breakfast featuring homemade breakfast rolls is served. Handmade crafts sell from 7 a.m. until 1:30 p.m. as well as a large variety of jams, jellies, pickles and baked items. Vegetable soup is cooked in large kettles for lunch and served up with barbecue sandwiches and homemade pies.
The family-oriented day also features children's activities and a variety of outdoor snacks. The YMCA and Lincoln Christian Church co-host an 8 a.m. 5K run.
Fifty-pound bags of South Dakota potatoes will be available for personal use or donation to an area food pantry or mission.
The day culminates with a 2 p.m. auction featuring quilts, comforters, handmade furniture and a variety of other items.
Snyder announced that the Harvest of Talents has raised over $871,000 in the past 19 years, all of which has been channeled through International Disaster Emergency Service, to meet hunger needs worldwide. Shepherd will speak at a Sunday morning celebration service in the Earl C Hargrove Chapel on the campus of Lincoln Christian College. During this service a check representing the proceeds of the 20th annual Harvest of Talents will be presented to Rick Jett, manager of International Disaster Emergency Service, a Kempton, Ind.,-based Christian organization.
[News release]
---
Lecture series focuses on Christianity's influence on Western civilization

Send a link to a friend
[SEPT. 20, 2003] Lincoln Christian Seminary announces the annual Dr. James Strauss Lectures to be presented on Oct. 7 and 8 on the Lincoln Christian College and Seminary campus. The seminary is honored to have Dr. Alvin J. Schmidt, professor emeritus of sociology at Illinois College, Jacksonville, present three lectures stemming from his highly acclaimed book "Under the Influence: How Christianity Has Transformed Civilizations." This work, published by Harper Collins/Zondervan, 2001, has prompted over 30 media interviews, including a two-day stint with Dr. James Dobson on the well-known international radio program "Focus on the Family."
Schmidt holds a B.A., M.Div., M.A. and Ph.D. and has taught in colleges and universities in Nebraska, North Carolina, Indiana, Missouri and Canada, as well as Illinois. He has also been a seminary professor at Concordia Theological Seminary in Fort Wayne, Ind., Dr. Schmidt has published numerous articles and books and was the consulting editor of Zondervan's Dictionary of Cults, Sects, Religions and the Occult. He is also noted for his expertise on the topic of fraternal organizations and was recognized by the American Library Association for his work "Fraternal Organizations."
Schmidt's lectures Oct. 7 will be at 9:30 a.m. in the Hargrove Chapel Auditorium, where he will give a presentation entitled "Christianity's Unrecognized Contributions to Western Civilization," and at 7 p.m. in Restoration Hall he will address "Why Are Christianity's Contributions Unrecognized." On Wednesday, Oct. 8, at 9:30 a.m. in Hargrove Chapel Auditorium, Dr. Schmidt will speak on "The Erosion of Christianity's Contributions in Today's Culture."
For more information, see www.lccs.edu or contact Mrs. Robyn Orme at (217) 732-3168, ext. 2254.
[News release]