The Lincoln Daily News publishes letters to the editor as they are received.
The letters are not edited in content and do not necessarily reflect
the views of Lincoln Daily News.
Lincoln Daily News requests that writers responding to controversial issues address the issue and refrain from personal attacks. Thank you!
.
Submit a letter to the editor online
You may also send your letters by e-mail to ldneditor@lincolndailynews.com
or by U.S. postal mail to:
Letters to the Editor
Lincoln Daily News
601 Keokuk St.
Lincoln, IL 62656
Letters must include the writer's name, telephone number, mailing address and/or e-mail address (we will not publish address or phone number information). Lincoln Daily News reserves the right to edit letters to reduce their size or to correct obvious errors. Lincoln Daily News reserves the right to reject any letter for any reason. Lincoln Daily News will publish as many acceptable letters as space allows.
To the editor:
Hello. My name is Michelle and I grew up in Lincoln. The reason that I am writing this today is because I want to make sure that all children remain healthy. Please make [sure] your child gets all their immunizations.
Right now my 4-week-old daughter is in the PICU at St. John's Hospital in Springfield with whooping cough. Because of her age she has not yet had her DPT shot, but PLEASE make sure that your child is up to date!!
She has been in ICU for five days now. She is on oxygen, IVs, all kinds of monitors and even a feeding tube. They put a tube in her because she gets so tired from her coughing spells that she is too tired to eat. That's because during these spells her little 8 pound, 8 ounce body goes through so much. Her heart rate goes from 70 to 190 in a matter of a few seconds to a few minutes.
I would hate for any child or parent to go through this. While she is getting some better, this will be a slow recovery for her as well as for the rest of our family.
Michelle (LaMaster) Durbin
[posted 9-15-03]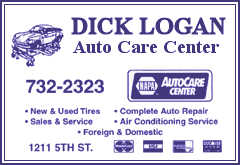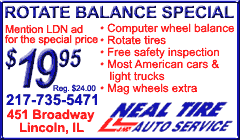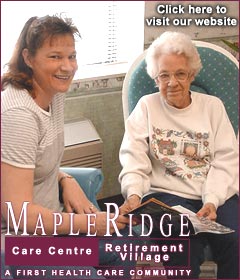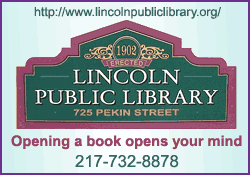 Dear Editor:
Central Illinois Community Blood Center wishes to thank those community members who participated in the blood drive on Monday, Sept. 7, at the Logan County Paramedic building. This was the largest turnout for a CICBC blood drive in Lincoln since we began providing the entire blood supply for Abraham Lincoln Memorial Hospital in September of 2001. Central Illinois Community Blood Center also thanks the ALMH Auxiliary, who sponsored the blood drive. What a great job they did!
Providing blood for local hospitals is a community responsibility. After all, the patients in these hospitals are your friends, neighbors and family members. With blood shortages all across the country, it has never been so important for community members to help fill this need. Blood is a renewable resource and must be constantly replaced.
When you donate blood through Central Illinois Community Blood Center, you help to maintain a safe, reliable blood supply for your community, while keeping local medical costs under control. CICBC provides all of the blood for 11 local hospitals, including those in Lincoln, Springfield and Hopedale. Once local hospitals are fully supplied, CICBC can and does share any extra with other areas of the country.
For those contemplating blood donation, the qualifications for donation are that you be at least 17 years of age (16 with parental permission form). There is no longer an upper age limit. You must weigh at least 110 pounds, be in overall good health and have a photo ID. Many medications, such as blood pressure medication, will not preclude donation. If you have any questions, please call the blood center at 753-1530.
Again, thank you for your lifesaving support!
Cherie Sexton-Young
Director of Donor Resources
Central Illinois Community Blood Center
[posted 9-13-03]
To the editor:
I like to read the LDN to keep up on news and folks from one of my favorite places on earth! The latest "Mayfield's Mutterings" alluded to the very ugly Ohio State victory this past Saturday over visiting San Diego State. As a huge ILLINI fan, formerly of Lincoln, and now living in Columbus, Ohio, I must say that for the Buckeye fans here, an attitude of "a win is a win, no matter how ugly" has made great strides at becoming one of the greatest truths of all time!
Last year I was so excited to see our beloved Illini ALMOST (I know that doesn't count, does it!) upset their sorry butts (can I say that here?). I can't wait until next year when we'll have another shot at these jokers!
The big news here today, Sept. 9... Maurice Clarett will be formally charged in the Franklin County Municipal Court with falsifying documents in a criminal investigation. Most likely, he is gone from the Ohio State lineup!
Thanks to Mayfield and Greg Taylor for their inspiring write-ups. Miss you both!
Jason Smith
[posted 9-10-03]