Lincoln Daily News publishes letters to the editor as they are received.
The letters are not edited in content and do not necessarily reflect
the views of Lincoln Daily News.
Lincoln Daily News requests that writers responding to controversial issues address the issue and refrain from personal attacks. Thank you!
.
You may also send your letters by e-mail to: ldneditor@lincolndailynews.com
or by U.S. postal mail to:
Letters to the Editor
Lincoln Daily News
601 Keokuk St.
Lincoln, IL 62656
Letters must include the writer's name, telephone number, and postal address or e-mail address (we will not publish address or phone number information). Lincoln Daily News reserves the right to edit letters to reduce their size or to correct obvious errors. Lincoln Daily News reserves the right to reject any letter for any reason. Lincoln Daily News will publish as many acceptable letters as space allows.
To the editor:

In response to the article regarding the bridge over Elkhart Hill, the village board of trustees of Elkhart did have a brief conversation with Mr. Hickman last year regarding road repairs in general, and the topic of the repair-maintenance of the bridge was approached only briefly. I was therefore surprised to read that the county was considering tearing down the bridge and that it had become such a high priority item. I would also like to correct any impression that the residents and leadership of Elkhart are in agreement regarding the destruction of this historic landmark. We most assuredly are not.

Having said that, let me state that the village board of trustees insists that all projects must have a way of being self-funded. We will work to find private funding or money through grants, etc. through the historical society and the office of tourism, to turn the bridge into a money-making tourist attraction.

Last year hill tours, including the bridge, were held throughout the summer and fall. Visitors from throughout the county and indeed the state came to enjoy the historic hill, bridge, cemetery and chapel. This summer the village will celebrate its sesquicentennial, and the bridge will play an important part in those celebrations.

[to top of second column in this letter]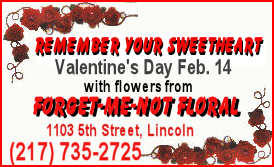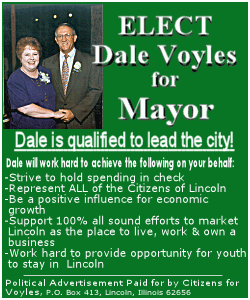 Elkhart officials are willing to meet with any county committee to discuss options and to arrive at a solution that will be acceptable to all -- a solution that will include keeping the bridge intact. I would also like to point out that spending tax money or increasing the burden on the taxpayers for a project such as this needs a lot of investigation, not a knee-jerk reaction. We will work with anyone in the county and in the region to put our taxable funds to the best use possible in these tight budgetary times.
In the meantime, come to Elkhart and enjoy our historic community -- and the bridge.
Dayle Eldredge
Village President
(Posted Feb. 7, 2005)
Related article
To the editor:

Citizens for Justice Inc. responds to the recent story regarding Logan County getting an ethanol plant. Is it really good for us?

Citizens for Justice is sounding an alarm and asking all area investors (farmers) and the county board to be slow to respond regarding directing any county moneys to this project.

Why would any viable business in today's financial and business marketplace need to offer 18-20 percent return on an investment unless it is a very high-risk investment? In our opinion, if this is such a great deal, investors should be running to them instead of the company running to the farmers. Banks are paying only around 1.5 percent on money market funds and no higher than around 3 percent for long-term CDs.

Any investment that sounds too good to be true usually isn't a good investment. Because this offer is restricted to area farmers, we are concerned even for their financial health and perhaps their vulnerability because of their recent hard times from farming.

As for our county board, we are not so desperate that we need to hurry into this venture. That sounds far too risky to invest county tax moneys. I am sure this company, too, will be asking for tax abatements as well as other cash incentives.

[to top of second column in this letter]
Because of the need for coal for this plant, I'm sure they will ask the county to build an expensive road costing several million dollars to handle the heavy weight. God only knows what else they are going to be asking for.
No stable bank, in our opinion, would loan money to most businesses in light of these facts. The county is broke, has no money in reserve and would need to borrow money to finance this project.
The county board is the Logan County taxpayers' bank. Please use our funds wisely. We realize the county board is made up of several farm owners and farmers. We also realize this is a very delicate issue among farmers. However, board members are still charged with the responsibility of representing all of Logan County residents.
Lester Van Bibber
Citizens For Justice Inc.
(Posted Feb. 5, 2005)
To the editor:

With the Wal-Mart Supercenter in the works, I felt the need to write a letter against it. I have been talking about this for years, to the point of preaching about Lincoln NOT needing this store.

If Wal-Mart would just hire a few more workers or, better yet, give them more than just 28 hours a week (since that is considered full time at Wal-Mart) and open up more than just three lanes at a time, then the store they are at would be fine.

The Supercenter will be a detriment to Lincoln by way of closing businesses. I have talked to several Kroger employees, and they know they will close if the Supercenter comes to town. Not to mention that it will affect every single retailer in our town.

It makes me wonder where our city officials' priorities are. Are they taking into consideration the possibilities of the closures of stores that are otherwise better-paying jobs than Wal-Mart?
Wal-Mart has gotten the best of Lincoln since coming to town. They have received tax breaks with each building, and now we will have yet another empty building, compliments of none other than Wal-Mart. They say they will help find a business to fill the space, but let's face facts and remember how long it took to find a business to fill their original building.
This Supercenter will not better the lives of Lincoln citizens. It will only make those who have made their livelihoods here strain to make it in an already strained economy.
Soon I will be getting petitions together to start the process of keeping this Supercenter out of Lincoln. Please help me to stop them!
Josh Bruns
Lincoln
(Posted Feb. 5, 2005)