Lincoln Daily News publishes letters to the editor as they are received.
The letters are not edited in content and do not necessarily reflect
the views of Lincoln Daily News.
Lincoln Daily News requests that writers responding to controversial issues address the issue and refrain from personal attacks. Thank you!
.
You may also send your letters by e-mail to: ldneditor@lincolndailynews.com
or by U.S. postal mail to:
Letters to the Editor
Lincoln Daily News
601 Keokuk St.
Lincoln, IL 62656
Letters must include the writer's name, telephone number, and postal address or e-mail address (we will not publish address or phone number information). Lincoln Daily News reserves the right to edit letters to reduce their size or to correct obvious errors. Lincoln Daily News reserves the right to reject any letter for any reason. Lincoln Daily News will publish as many acceptable letters as space allows.
To the editor:

This is a last-minute reminder to purchase tickets for our Art of the Heart Silent Auction and Dance on Feb. 12. Music is big-band era by the Illinois Brass Works. The dance is from 7 to 10:30 p.m. at the Lincoln Knights of Columbus. Tickets are $35 for a couple or $20 for a single. Call 732-3771 to ask for tickets, and hope to see you there....

Over 60 packages going to auction, including:
Yamaha motorcycle
Tickets to "Mamma Mia" and overnight accommodations
Over 20 pieces of artwork
Illini basketball tickets
Illini football tickets
Cardinal baseball tickets -- behind the dugout
Sooo much more
[to top of second column in this letter]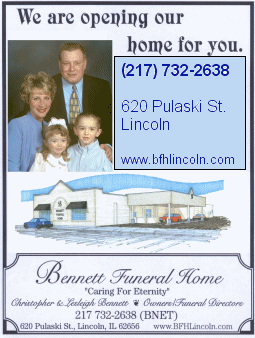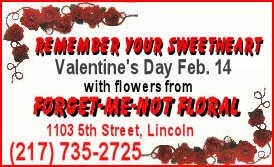 We will have live music, food, a red carnation for every lady -- and an evening full of fun and an event such as Logan County has never had before.
The proceeds stay in our county and go to fund the needs of those children who have been placed in foster care.
Last year's event raised enough money to purchase many needed items for infants, toddlers and young children who were placed in foster care. We provided them with clothes, toiletries and even teddy bears to bring them comfort as they went through the unfortunate transition of being displaced from their homes. We even helped a family fix a toddler's teeth.
Please open your hearts and attend this event.
Sincerely,
Kevin Franz
(Posted Feb. 9, 2005)