Flu vaccine opened to more groups
Available at Logan County Health Department

Send a link to a friend
[JAN. 10, 2005] On Dec. 27 the Logan County Health Department expanded the target group eligible to receive the influenza vaccine. Those now eligible to receive the flu vaccine include adults age 50-64 and out-of-home caregivers and household contacts of people in high-risk groups.
People in the high-risk groups for serious complications from influenza include individuals 65 years or older, children less than 2 years old, pregnant women and people of any age who have certain underlying health conditions such as heart or lung disease, transplant recipients, and people with AIDS.

"We want to make sure the public knows that the eligibility includes family members, household contacts and the caregivers of those in the high-risk groups," said Mark Hilliard, administrator of the local health department.

In response to this season's vaccine shortage, the Centers for Disease Control and Prevention previously recommended inactivated influenza vaccine for all children 6-23 months, adults 65 years and older, people 2-64 years old with underlying chronic medical conditions, all women who will be pregnant during the influenza season, residents of nursing homes and long-term care facilities, children 6 months-18 years who are on chronic aspirin therapy, health-care workers involved in direct patient care, and out-of-home caregivers and household contacts of children less than 6 months old.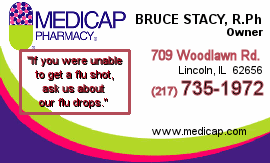 "Influenza activity in Illinois has been low so far this season, but other states are beginning to see more widespread cases," Hilliard said. "We want to make sure that those eligible in the Logan County area have an opportunity to receive the vaccine before it's redistributed to other parts of the state," he added.
Flu vaccine is available at the local health department, 109 Third St., during normal clinic hours, Monday through Friday 7:30 a.m. until 4 p.m.
[Logan County Health Department news release]