Scholastic Bowl team wins regional

Send a link to a friend
[MARCH 8, 2005] The Lincoln Community High School Scholastic Bowl team won its regional, which was held at the high school on Monday night, by defeating Peoria Richwoods and Rock Island. Six schools were represented in the regional.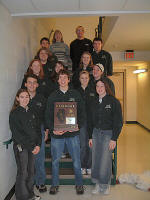 The captain for Lincoln's team was Greg Gandenberger. Other regional team members were Alison Kessinger, Tim Wiser, Laura Rayman, Craig Rohlfs, Rachel Kasa, James Cosby, Kara Gehlbach, Brittany Uhlry, Elise Valdes, Genevieve Larson and Tracy Turner. They are coached by Julie Kasa and Josh Rezba.

The Lincoln team will advance to sectionals on Saturday in Galesburg.

[Provided by Sandy Blane]

For more information, see http://www.ihsa.org/activity/scb/.