Illinois moves into the Sweet 16
Illini roll Nevada thanks to Augie and Ingram
By Greg Taylor

Send a link to a friend
[MARCH 22, 2005] With a 71-59 victory over Nevada on Saturday at Indianapolis, Illinois will make an appearance in the Sweet 16 for the fourth time in five years. Big men James Augustine and Jack Ingram both had career highs in points, leading four Illini in double figures for their fifth straight victory. The win moves Illinois to 34-1 on the season, as the boys in orange continue to add chapters to their storybook season. Up next for Illinois is Wisconsin-Milwaukee, a No. 12 seed, which knocked off big boys Alabama and Boston College during the first weekend.
Saturday was a story of strength inside, as Augustine scored 23 points and grabbed 10 rebounds, while Ingram, the reserve from San Antonio, scored 12 points -- the first time in his career he scored in double figures. Point guard Deron Williams had a double-double, with 15 points and 10 assists, while Luther Head scored 14 points in the victory. Illinois' defense was once again very good for most of the game, as the Illini held Nevada super-soph Nick Fazekas to just 11 points on 5-20 shooting. Illinois' lead swelled to 22 at 59-37, before a late Nevada run made the final score more acceptable.
Illinois will play next Thursday night at the Allstate Arena in Chicago. Game time is set for 6:27 p.m., and the game will be seen on WCIA-TV, Channel 3. The LDN will continue to bring you the latest information as Illinois continues its "March to the Arch."
Illini notes
1. Bruce Weber is a graduate of UW-Milwaukee, setting up a matchup against his alma mater.
2. Should Illinois win Thursday night, they would face the winner of Arizona vs. Oklahoma State on Saturday for the right to go to the Final Four.
3. Nick Smith looks like he is getting farther and farther into Weber's doghouse. We've always really liked Nick, but Saturday was not his finest hour. His 45-second first-half appearance resulted in an offensive foul, and his three minutes of action in the second frame showed two missed layups, a blown defensive assignment and a turnover.
4. Nevada coach Mark Fox seemed very angry after the game. The handshake with Weber couldn't have been more brief, and his comments in the press conference were very sharp. Fox said Illinois wasn't even close to the best defensive team they played this year (he gave that nod to Kansas), and he felt like the whistles were definitely pro-Illinois.
5. Augustine is on quite a roll: First, he dominated the conference tourney and won MVP honors. Second, Thursday night he grabbed 15 rebounds, a career high. Finally, against Nevada he was the most impressive player on the court. Before long, we wonder if Augie-to-the-NBA talk will surface.
6. Saturday's two-game session at the RCA Dome in Indianapolis set an all-time attendance record for a first- or second-round session in the NCAA tourney. Over 40,000 people watched Illinois and Kentucky win.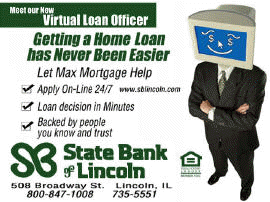 7. The Illini went 12 seasons without a Sweet 16 appearance, from 1989 (Final Four year) until 2001. In the last five seasons, counting this year, only the 2003 squad failed to make it to the second weekend of play.
8. High seeds are falling left and right. We couldn't sleep well when we heard Kansas went down to Bucknell on Friday night. We were stunned to see Wake Forest, UConn and Oklahoma fall in the second round. It makes us remember the words of the Rev. -- Roger Powell: Stay hungry and humble!
9. How about Southern Illinois? They played great on Friday against St. Mary's and were in super shape against Oklahoma State yesterday for 20 minutes. Coach Chris Lowery's team just won't quit, and our guess is they win on Sunday if they are playing anywhere other than the state of Oklahoma (games were played at Oklahoma City).
10. How about the Big Ten? The conference everyone says is down has three teams in the Sweet 16 (with MSU and Wisky) -- tied with the ACC for the most teams still alive. The mighty Big East and Big 12 conferences are down to just two teams each. And the powerhouse known as the SEC? They have just one team left.
11. The big story of the week is Illinois vs. Bruce Pearl, coach of UW-Milwaukee. Pearl was an assistant coach with Iowa in the late '80s and early '90s and was a central figure in the NCAA investigation of the Deon Thomas recruitment. Many longtime Illinois fans feel Pearl was both a lawbreaker and a weasel -- using a 17-year-old kid to "get back" at Illinois for several recruiting victories. Much more will be said and written about this story line. We have two thoughts: First, priority No. 1 must be on winning the game and getting to the Elite Eight; and two, we hope someone will "educate" the current Illini players and even coaches on the damage done to the program as a result of Pearl.
Bottom line? It should be another great week of Illini hoops. The fairy tale continues!