4-H Legislative Connection

Send a link to a friend
[MARCH 22, 2005] SPRINGFIELD -- To learn about state lawmaking, more than 800 Illinois youth and family members traveled to Springfield for the ninth annual 4-H Legislative Connection at the state Capitol on March 16. Logan County 4-H members who attended were Kristin Bishop, Elizabeth Carter, Daniel Fulton, David Fulton and Miranda Yard.
Throughout the one-day event, 4-H'ers were able to meet with legislators and attend workshops to learn more about the legislative process. A rally in the Capitol rotunda highlighted the achievements of current Illinois 4-H members and leaders and paid tribute to those who have contributed to the program's continued success.

As the largest out-of-school educational program for youth in the United States, 4-H seeks to assist youth in acquiring knowledge, forming attitudes and developing life skills that will enable them to become caring, competent and contributing members of society. In Illinois, 285,991 youth participate in 4-H and other youth programs of the University of Illinois Extension.

For more information about 4-H in Illinois, visit http://www.4-H.uiuc.edu.

[News release by Patty Huffer, Logan County Extension community worker -- youth development]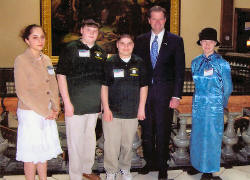 Logan County 4-H members who attended the 4-H Legislative Connection are pictured with Sen. Bill Brady. Left to right are Kristin Bishop, David Fulton, Daniel Fulton, Sen. Brady and Elizabeth Carter.