Send a link to a friend
September 2010
---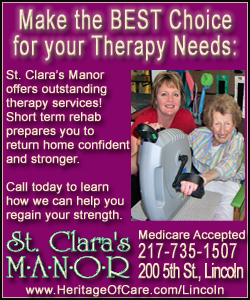 Wednesday, Sept. 8
Original Farmers' Market of Lincoln
SPONSOR: Original Farmers' Market of Lincoln
WHO: Public
WHERE: Latham Park
WHEN: 3:30-6 pm
Lincoln Farmer's Market
SPONSOR: Lincoln Farmer's Market
WHO: Public
DETAILS: Open-air market offering fresh local produce, baked goods, crafts, dog biscuits and roasted coffee beans. Special events and entertainment throughout the season.
WHERE: Scully Park, 316 S. Kickapoo
WHEN: 4-6:30 pm
Friday, Sept. 10
Community blood drive
SPONSOR: Castle Manor
WHO: Walk-ins welcome or schedule an appointment by calling Dara at 217-732-2310.
DETAILS: (See publicity.)
WHERE: Castle Manor, 1550 Castle Manor Drive
WHEN: 9-11 am
Cruise-in at Culver's
SPONSOR: Railsplitter Antique Auto Club and Main Street Lincoln
WHO: Public
DETAILS: For more information, call 217-732-3519 or 217-737-8494.
http://railsplitterantiqueautoclub.webs.com/events.htm
WHERE: Culver's, 2530 Woodlawn Road
WHEN: 5-9 pm
Saturday, Sept. 11
Original Farmers' Market of Lincoln
SPONSOR: Original Farmers' Market of Lincoln
WHO: Public
WHERE: Latham Park
WHEN: 7 am-noon
Lincoln Farmer's Market
SPONSOR: Lincoln Farmer's Market
WHO: Public
DETAILS: Open-air market offering fresh local produce, baked goods, crafts, dog biscuits and roasted coffee beans. Special events and entertainment throughout the season.
WHERE: Scully Park, 316 S. Kickapoo
WHEN: 7 am-noon
Glass recycling
SPONSOR: Logan County Joint Solid Waste Agency, Lincoln Junior Woman's Club, Saint-Gobain Containers and the Logan County Fair Association
WHO: Open to the public
DETAILS: Only container glass (food-beverage) will be accepted. Clear glass, as well as amber, green and blue will be accepted. Unacceptable items include ceramics, dishware, light bulbs, fluorescent lights, window glass and mirrors.
Glass preparation: Rinse container thoroughly. Remove all metal or plastic lids and rings from the container. Labels may be left on containers. The glass recycling program reserves the right to reject any glass that does not meet preparation guidelines. For safety reasons, no broken glass will be accepted.
Glass will be accepted only on designated collection dates. Collection will be canceled in event of inclement weather. The Logan County Joint Solid Waste Agency does not accept glass at any of its recycling sites.
For more information on local recycling efforts, visit the Logan County Joint Solid Waste Agency at www.co.logan.il.us -- select "Joint Solid Waste Agency."
WHERE: New location! Logan County Fairgrounds. Use Main Gate entrance off Postville Drive.
WHEN: 9 am-noon
(Second Saturday of each month from May to October)
Pleasant Valley Cemetery Walk
WHO: Public
DETAILS: Cemetery walk points out the burial sites of several pioneers important to the Middletown area.
WHERE: Pleasant Valley Cemetery, one mile north of Middletown, up the hill from Salt Creek
WHEN: 2-4 pm
(Rain date: Saturday, Sept. 18)
Saturday-Sunday, Sept. 11-12
Logan County Open Golf Tournament
SPONSOR: Veterans' Service Committee
WHO: Logan County residents
DETAILS: Entry fee for two rounds, cart, lunch. Three divisions -- trophies. Two senior divisions, 60 and 70. Sign up and pay fee at Elks Pro Shop by 5 pm Sept. 8. All proceeds (after expenses) will be donated to Logan County.
WHERE: Lincoln Elks Golf Course
WHEN: Tee times booked
Sunday, Sept. 12
Fall Farm Day
SPONSOR: Abraham Lincoln Tourism Bureau of Logan County
WHO: Public
DETAILS: Fourth annual tour. J.H. Hawes Elevator and Museum, Lincoln Corn Maze, Wachter Farms, Gail's Pumpkin Patch. Cars can caravan from stop to stop. No charge this year. Discounted rates at Lincoln Corn Maze.
(See article.) (See article on J.H. Hawes Grain Elevator.)
WHERE: Northern Logan County from Atlanta to Beason
WHEN: Begins at noon at Palms Grill in Atlanta; tour 1-4 pm, including 2-4 pm at Lincoln Corn Maze.
Tuesday, Sept. 14
Lincoln Writers Club meeting
SPONSOR: Lincoln Writers Club
WHO: Anyone interested in writing
DETAILS: (See article.)
WHERE: Lincoln College dining hall, Alumni Room
WHEN: 6:30 pm
Wednesday, Sept. 15
Original Farmers' Market of Lincoln
SPONSOR: Original Farmers' Market of Lincoln
WHO: Public
WHERE: Latham Park
WHEN: 3:30-6 pm
Lincoln Farmer's Market
SPONSOR: Lincoln Farmer's Market
WHO: Public
DETAILS: Open-air market offering fresh local produce, baked goods, crafts, dog biscuits and roasted coffee beans. Special events and entertainment throughout the season.
WHERE: Scully Park, 316 S. Kickapoo
WHEN: 4-6:30 pm
Thursday, Sept. 16
"Spark That Brain"
SPONSOR: The Christian Village and Alzheimer's Association
WHO: Public
DETAILS: Do you often wonder why you are getting so distracted and forgetful? If you want to have fun while learning more about your memory, this is an interactive program you don't want to miss! No charge for the program. Please register at 217-732-2189. For more information, ask for Marcia Cook. Refreshments available.
WHERE: The Christian Village Senior Apartments, 1500 Seventh St.
WHEN: 6-7 pm
Friday, Sept. 17
Abraham Lincoln National Railsplitting Festival
Civil War Ball
SPONSOR: Logan County Railsplitting Association
WHO: Public
DETAILS: http://www.railsplitting.com/
WHERE: Lincoln Park District Rec Center, 1400 Primm Road
WHEN: 7-10 pm
Saturday, Sept. 18
Original Farmers' Market of Lincoln
SPONSOR: Original Farmers' Market of Lincoln
WHO: Public
WHERE: Latham Park
WHEN: 7 am-noon
Lincoln Farmer's Market
SPONSOR: Lincoln Farmer's Market
WHO: Public
DETAILS: Open-air market offering fresh local produce, baked goods, crafts, dog biscuits and roasted coffee beans. Special events and entertainment throughout the season.
WHERE: Scully Park, 316 S. Kickapoo
WHEN: 7 am-noon
Abraham Lincoln National Railsplitting Festival
SPONSOR: Logan County Railsplitting Association
WHO: Public
DETAILS: http://www.railsplitting.com/
WHERE: Logan County Fairgrounds
WHEN: 10 am-4 pm
Sunday, Sept. 19
Abraham Lincoln National Railsplitting Festival
SPONSOR: Logan County Railsplitting Association
WHO: Public
DETAILS: http://www.railsplitting.com/
WHERE: Logan County Fairgrounds
WHEN: 10 am-4 pm
Monday, Sept. 20
Lincoln Land Men's Fellowship meeting
WHERE: Lincoln Christian University, Henderson Hall
WHEN: 6:30 pm
Tuesday, Sept. 21
Lapsit Story Time
SPONSOR: Lincoln Public Library District
WHO: Children 5-7 years old
DETAILS: stories, finger plays, nursery rhymes, music. Registration is required for accurate planning. Call Youth Services Department, 732-5732.
WHERE: Library Annex
WHEN: 10 am
(Tuesdays and Wednesdays through Nov. 3)
Ready Readers Story Time
SPONSOR: Lincoln Public Library District
WHO: Children 6-12 months old
DETAILS: Stories, movement, crafts. Registration is required for accurate planning. Call Youth Services Department, 732-5732.
WHERE: Library Annex Community Room
WHEN: 3:30-4:15 pm
(Tuesdays through Nov. 2)
Wednesday, Sept. 22
Lapsit Story Time
SPONSOR: Lincoln Public Library District
WHO: Children 5-7 years old
DETAILS: stories, finger plays, nursery rhymes, music. Registration is required for accurate planning. Call Youth Services Department, 732-5732.
WHERE: Library Annex
WHEN: 10 am
(Tuesdays and Wednesdays through Nov. 3)
Beginning Book Buddies Story Time
SPONSOR: Lincoln Public Library District
WHO: Children 3-4 years old
DETAILS: Stories, puppets, music, movement, crafts, finger plays. Registration is required for accurate planning. Call Youth Services Department, 732-5732.
WHERE: Library Annex Community Room
WHEN: 10 am
(Wednesdays through Nov. 3)
Original Farmers' Market of Lincoln
SPONSOR: Original Farmers' Market of Lincoln
WHO: Public
WHERE: Latham Park
WHEN: 3:30-6 pm
Lincoln Farmer's Market
SPONSOR: Lincoln Farmer's Market
WHO: Public
DETAILS: Open-air market offering fresh local produce, baked goods, crafts, dog biscuits and roasted coffee beans. Special events and entertainment throughout the season.
WHERE: Scully Park, 316 S. Kickapoo
WHEN: 4-6:30 pm
Thursday, Sept. 23
Craft classes
SPONSOR: Lincoln Public Library District
WHO: Children ages 8-12 years
DETAILS: Each class requires a registration for accurate planning of materials. Call the Youth Services Department, 732-5732.
WHERE: Library Annex Community Room
WHEN: 3:30-4:30 pm
(Thursdays through Oct. 28)
Friday, Sept. 24
Dinner lecture presentation
SPONSOR: Elkhart Historical Society
WHO: By reservation
DETAILS: Genealogy program, "What's in a Name?" presented by Mike Starasta
(See article.)
WHERE: Wild Hare Café, 104 Gov. Oglesby St., Elkhart
WHEN: Dinner at 5:30 pm, program 7-8 pm
Saturday, Sept. 25
Original Farmers' Market of Lincoln
SPONSOR: Original Farmers' Market of Lincoln
WHO: Public
WHERE: Latham Park
WHEN: 7 am-noon
Lincoln Farmer's Market
SPONSOR: Lincoln Farmer's Market
WHO: Public
DETAILS: Open-air market offering fresh local produce, baked goods, crafts, dog biscuits and roasted coffee beans. Special events and entertainment throughout the season.
WHERE: Scully Park, 316 S. Kickapoo
WHEN: 7 am-noon
Dog wash
SPONSOR: Humane Society of Logan County
WHO: Public
Historic Elkhart Hill tours
SPONSOR: Elkhart Historical Society
WHO: By reservation
DETAILS: (See article.)
WHERE: Elkhart
WHEN: 9:30 am and 1:30 pm
Cruise-in
SPONSOR: Railsplitter Antique Auto Club and Main Street Lincoln
WHO: Public
DETAILS: http://railsplitterantiqueautoclub.webs.com/events.htm
WHERE: Downtown Lincoln
WHEN: 5-9 pm
Sunday, Sept. 26
Together for Lincoln Service Project Day: Round 3
SPONSOR: Together for Lincoln
WHO: Volunteers
DETAILS: (See June 26 article.) (See Aug. 4 article.)
WHERE: Project sites
Community worship service
SPONSOR: Together for Lincoln
WHO: Public
DETAILS: (See article.)
WHERE: Lincoln Christian University Chapel
WHEN: 7 pm
Tuesday, Sept. 28
Lapsit Story Time
SPONSOR: Lincoln Public Library District
WHO: Children 5-7 years old
DETAILS: stories, finger plays, nursery rhymes, music. Registration is required for accurate planning. Call Youth Services Department, 732-5732.
WHERE: Library Annex
WHEN: 10 am
(Tuesdays and Wednesdays through Nov. 3)
Ready Readers Story Time
SPONSOR: Lincoln Public Library District
WHO: Children 6-12 months old
DETAILS: Stories, movement, crafts. Registration is required for accurate planning. Call Youth Services Department, 732-5732.
WHERE: Library Annex Community Room
WHEN: 3:30-4:15 pm
(Tuesdays through Nov. 2)
Wednesday, Sept. 29
Lapsit Story Time
SPONSOR: Lincoln Public Library District
WHO: Children 5-7 years old
DETAILS: stories, finger plays, nursery rhymes, music. Registration is required for accurate planning. Call Youth Services Department, 732-5732.
WHERE: Library Annex
WHEN: 10 am
(Tuesdays and Wednesdays through Nov. 3)
Beginning Book Buddies Story Time
SPONSOR: Lincoln Public Library District
WHO: Children 3-4 years old
DETAILS: Stories, puppets, music, movement, crafts, finger plays. Registration is required for accurate planning. Call Youth Services Department, 732-5732.
WHERE: Library Annex Community Room
WHEN: 10 am
(Wednesdays through Nov. 3)
Original Farmers' Market of Lincoln
SPONSOR: Original Farmers' Market of Lincoln
WHO: Public
WHERE: Latham Park
WHEN: 3:30-6 pm
Lincoln Farmer's Market
SPONSOR: Lincoln Farmer's Market
WHO: Public
DETAILS: Open-air market offering fresh local produce, baked goods, crafts, dog biscuits and roasted coffee beans. Special events and entertainment throughout the season.
WHERE: Scully Park, 316 S. Kickapoo
WHEN: 4-6:30 pm
Thursday, Sept. 30
Craft classes
SPONSOR: Lincoln Public Library District
WHO: Children ages 8-12 years
DETAILS: Each class requires a registration for accurate planning of materials. Call the Youth Services Department, 732-5732.
WHERE: Library Annex Community Room
WHEN: 3:30-4:30 pm
(Thursdays through Oct. 28)
Presentation of economic development plan
SPONSOR: Lincoln & Logan County Development Partnership
WHO: Public
DETAILS: (See article.)
WHERE: Lincoln Christian University
WHEN: 6-8 pm