The graduation ceremony was at 10 a.m. on June 28 at Heartland's Raab Road campus. Dr. Diana McCauley, a well-known local volunteer, independent educational consultant and advocate for education and equity for all women and girls, delivered the commencement speech.
The Business Essentials program was designed to help economically disadvantaged community members overcome educational, social and economic barriers to employment.
"I had no idea it would be so difficult and stressful, or so rewarding," said Eleisha Whitney-Olson about the 16-week, 17-credit-hour program.
Pam Westerdahl, Heartland's director of workforce services, formed a partnership between the college, the McLean County Chamber of Commerce, the University of Illinois Extension Service and Mid-Central Community Action to develop and launch the project.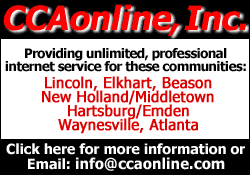 "Regional employers are finding it increasingly difficult to find qualified staff for entry and midlevel positions. At the same time, many community members face multiple barriers to employment due to a lack in technical and life skills required for careers offering wages and benefits that will support a family and promise opportunities for advancement. This program brings these needs together for a positive solution," explains Westerdahl.
Graduate Nessa Sacry says she now feels qualified to compete for a living-wage position. "This was more than I had expected. It was a lot of work in a short time period, but now I know I can accomplish the goals I set for myself."
[Heartland Community College news release]
Her integrated teaching and gardening ideas began with a butterfly garden put together by her 1999-2000 class. In 2001 her dream of an 1850s-style garden with book-themed plots landed the school a $6,800 grant from Barnes and Noble through the Illinois Literacy Foundation.
Now the garden, across Sixth Street from Jefferson School, boasts several book-themed plots, such as the "Petunia Goose" and the "Charlotte's Web" plots, as well as a sunflower house where classes gather for special outdoor book-readings, a prairie garden, a butterfly bush, a rainbow garden and several raised gardens surrounded by even more flower beds. Also in the garden, a log cabin built by Pete Fredericks houses the Tin Man from "The Wizard of Oz" and gardening tools. For the supplies, Hawkinson found many generous donors within the Lincoln community.
She approached the Lincoln Public Library about bringing their summer reading program to the Jefferson School Children's Garden. As a result, children and parents gather on Wednesday mornings to sit and read for an hour in the shade of the garden.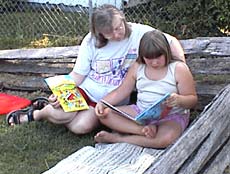 [Photo by Trisha Youngquist]
[Debby Simpson takes time out of her day to sit and read with her daughter Katie. Katie has read more than 400 books this summer!]
Assistant children's librarian Linda Harmon brings a box full of books from the library and spreads them out on the grass. Kids glance over the books and hurriedly find a square of carpet to sit on and read. And when they have finished one book, they quickly find and devour another. The entire hour is spent reading one book after another. Parents who accompany their children sit while their children read aloud to them.
State Farm Insurance sponsors a midhour drink break. Agent Rick Hamm also brings safety programs to the school during the year.
The library program extension allows children who live in the neighborhoods near Jefferson to participate in the reading program, since the school lies within walking distance. Already this summer 15 kids have participated at the location and filled out reading logs.
Kids write down in their reading logs all the books that they read and use it to keep track of their reading goals. Children set their own reading goals in this program that has over 500 participants.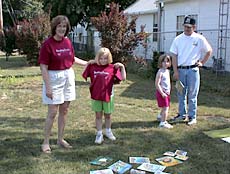 [Linda Harmon awards Amanda McCray a "Reading Rocks" T-shirt for meeting her reading goal.]
Rewards encourage them toward their personal goals. When a child reaches his or her reading goal, the reward is a red "Reading Rocks" T-shirt. Weekly prizes for children who have read the most during the week are also given out. Area merchants have donated hundreds of prizes for the weekly honors. An anonymous donor supplied the prizes for the summer's top readers.
At the library, charts on the walls reflect individual progress as well as progress by school. Schools compete in most books read for a trophy. Jefferson has never won the trophy, but this year they appear to be strong competitors, vying closely with Washington-Monroe for first place.
As Linda Harmon was quick to point out, though, it would not be possible without Cathy Hawkinson. "She's the impetus behind the whole thing. I just bring the books."