Features, Animals for Adoption, Out and About, Calendar
Travel News Elsewhere (fresh daily from the Web)
Home and Garden News Elsewhere (fresh daily from the Web)
Play sessions offer parents information
[SEPT. 25, 2002] Lincoln Christian College will offer an eight-week session, "Parents-Education-Relationship-Play for Infants," Prep-I, from Oct. 1 through Nov. 21.
This eight-week session for parents and their babies will allow parents time to play and learn about child development with college students who are preparing to be teachers.
Prep-I participants will meet each Tuesday from 3:30 to 5 p.m. during the eight-week session at the Lincoln Christian Church. This is part of the "Infant and Toddler Development" class offered at Lincoln Christian College. Parents who have infants — non-walking babies — are encouraged to call for a reservation.
Parents who have walking babies up to age 3 will meet in a similar class play session on Thursdays from 3:30 to 5 p.m. This group is called Prep-T. Both sessions include time for play with children and time for adults to discuss development while student teachers play with children.
Please call for a reservation at 1 (888) 522-5228, Ext. 2257 and ask for Annette or Debby.
[LCC news release]
---
Step back and enjoy
the role of grandparent
[SEPT. 21, 2002] URBANA — "When I was raising my kids…," "That's the way we always did it," and "My kids turned out OK" are common phrases spoken by grandparents when discussing child-rearing techniques.
"Grandparents sometimes find it difficult to let their adult children parent, especially if it conflicts with their beliefs," said Cheri Burcham, University of Illinois family life educator. "Opposing values, religious differences, distance and strained relationships can also add to the dispute between generations."
Burcham has some advice for grandparents. The most important thing to remember is that you are the grandparent, not the parent. Respect your children's right to raise their children, and follow their lead. Be supportive and loving, and ask your children how you can be of assistance to them.
Don't compare your child-rearing techniques to theirs. Much has changed in the area of child development and the information available to parents. "The most beneficial thing to do is read and update yourself on these new developments. You still may not agree, but at least you will understand where your children are coming from," said Burcham.
The most frequent cause of conflict is miscommunication between generations. Instead of meddling and giving advice, offer concerns that are expressed tactfully. Pick your battles carefully. And don't bring up the past but focus on the present.
"Criticizing adult children in front of the grandchildren is a big no-no," said Burcham. "If grandchildren sense the stress between generations, they may use this to their advantage by playing one off of the other."
According to an AARP survey, 50 percent of responding grandparents stated that they frequently play the role of friend or companion to their grandchild. "By adopting this view of the relationship, it certainly alters the grandparent's viewpoint of the child in respect to discipline and child-rearing," said Burcham.
"Step back and enjoy the role of grandparent — it's one you don't want to miss," added Burcham. Grandchildren can bring out your inner child, make you feel young again, and give you someone to share your history with. Also, as a grandparent, you may have more time and resources to share with your grandchildren than you did with your own children.
"I recommend that you let your adult children take the lead in rearing their children and that you don't interfere unless your grandchild's safety and well-being are threatened," said Burcham. "The role of grandparent can be very positive and fulfilling and can add a valuable dimension to the family that benefits everyone."
[U of I news release]
---
Found dog
Rescuers seek dog owner
We are seeking help in finding the owner of a dog found on Monday, Sept. 16, wandering on Old 66 near the Burwell office building. The dog, an unaltered male poodle/terrier or schnauzer mix, was thin and wet, as if he had been out loose for a few days. He had no collar. He was very willing to go with the woman who stopped to rescue him from the highway. He is very friendly and seems to be house-trained. His mostly black fur had been clipped within the last month, so somebody had been caring for him in the recent past.
We have contacted local groomers, vets and animal control with no response so far. If no one claims him soon, we will find a new home for him. The owner can contact us at 735-1413, Monday-Friday, 8 a.m. to 4 p.m.
---
At Logan County Animal Control —
DOGS
Big to little, most of these dogs will make wonderful lifelong companions when you take them home and provide solid, steady training, grooming and general care. Get educated about what you choose. If you give them the time and care they need, you will be rewarded with much more than you gave them. They are entertaining, fun, comforting, and will lift you up for days on end.

Be prepared to take the necessary time when you bring home a puppy, kitten, dog, cat or any other pet, and you will be blessed.

[Logan County Animal Control is thankful for pet supplies donated by individuals and Wal-Mart.]

Warden Sheila Farmer and her assistant, Polly Farmer,
look forward to assisting you.


[A friendly-faced 2-year-old male mixed Lab is seeking his human soul mate.
He's not fixed, and he's good with other dogs.]


[A purebred Doberman with a sweet disposition, this handsome 1˝-year-old male is good with children and other dogs. His ears are cropped; he is not fixed.]

[Yes, I have a purple tongue!
That's because I'm a black Labrador and chow chow mix. I'm male and just 1 year old. I'm not fixed, and I would make a great farm dog.]


[Glory is looking for a quiet home where she can get some TLC. She likes kids. An American bulldog, she is 7 years old and has not been fixed.]

Ten reasons to adopt a shelter dog

1. I'll bring out your playful side!

2. I'll lend an ear to your troubles.

3. I'll keep you fit and trim.

4. We'll look out for each other.

5. We'll sniff out fun together!

6. I'll keep you right on schedule.

7. I'll love you with all my heart.

8. We'll have a tail-waggin' good time!

9. We'll snuggle on a quiet evening.

10. We'll be best friends always.

---

CATS

[Logan County Animal Control is thankful for pet supplies donated by individuals and Wal-Mart.]

Warden Sheila Farmer and her assistant, Polly Farmer, look forward to assisting you.

In the cat section there are a number of wonderful cats to choose from
in a variety of colors and sizes.

Farm cats available for free!


[This lovely lady with green eyes is Bailey. She is 3 years old and has been spayed and declawed. She would love a new home full of love.]


[This soft-faced 1-year-old male kitty needs a cat lover's care. He has not been fixed but has been declawed.]

---

These animals and more are available to good homes from the Logan County Animal Control at 1515 N. Kickapoo, phone 735-3232.

Fees for animal adoption: dogs, $60/male, $65/female; cats, $35/male, $44/female. The fees include neutering and spaying.

Logan County Animal Control's hours of operation:

Sunday – closed

Monday – 8 a.m. - 5 p.m.

Tuesday – 8 a.m. - 5 p.m.

Wednesday – 8 a.m. - 5 p.m.

Thursday – 8 a.m. - 5 p.m.

Friday – 8 a.m. - 3 p.m.

Saturday – closed

Warden: Sheila Farmer
Assistant: Polly Farmer
In-house veterinarian: Dr. Lester Thomson
---

Illinois fall trout fishing opens Oct. 19
[SEPT. 27, 2002] SPRINGFIELD — Anglers, get your poles ready! Beginning Oct. 19 at 5 a.m., the Illinois Department of Natural Resources will offer 35 locations throughout Illinois for its fall catchable trout program, according to Sen. Larry Bomke.
"Fishing is a great source of recreation," said Bomke, R-Springfield. "Illinois has 1.6 million acres of surface waters and about 203 different species of fish. I highly encourage area residents to take advantage of this natural resource and enjoy our Illinois parks and waters."
More than 70,000 trout will be available Oct. 19 at 5 a.m. All licensed fishermen with an inland trout stamp and a fishing license may catch up to five trout per day.
People younger than 16, blind, disabled or Illinois military personnel at home on leave may fish without a license. For all others, fishing licenses and inland trout stamps are available at sporting goods stores, bait shops, DNR regional offices and online at http://dnr.state.il.us.
The IDOT Lake and Washington Park Pond in Springfield will be stocked for the fall trout program.
For more information on the program, contact DNR, Division of Fisheries, at (217) 782-6424 or 1 (800) ASK-FISH.
[News release]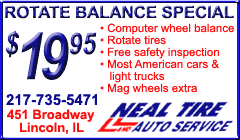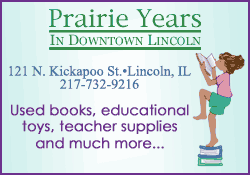 Heartland Community College
Your pathway to lifelong learning!

Community Education Class through the Lincoln Center of HCC

For more information or to register, call 735-1731,
stop by HCC at 620 Broadway,
or go online at hcc.cc.il.us/CCE

Classes currently available:

Intro to MS Excel
6:00-9:00 pm, 9/30 & 10/7, HCC

Vachel Lindsay
7:00-9:00 pm, 10/2, 9 & 16, Oasis

Do's & Don'ts of Landscaping
7:00-9:00 pm, 10/8, U of I Ext.

Visual Appeal to Power Point
6:00-9:00 pm, 10/21 & 28, HCC

Lincolndailynews.com

is the place to advertise


Call (217) 732-7443
or e-mail
ads@lincolndailynews.com
---
News | Sports | Business | Rural Review | Teaching & Learning | Home and Family | Tourism | Obituaries
Community | Perspectives | Law & Courts | Leisure Time | Spiritual Life | Health & Fitness | Calendar