This funding, awarded by U.S. Secretary of Education Rod Paige, is the first part of a multiyear Reading First grant designed to implement scientifically proven methods of instruction to help improve the reading achievement levels of children. Reading First was passed by Congress under the "No Child Left Behind Act" of 2001.
"We all know that the ability to read proficiently is a basic skill everyone should have. This starts with children at the youngest age," Gov. Ryan said. "Lura Lynn and I have always believed in this idea through the Illinois Reads program and Futures for Kids. This grant will help brighten the futures of Illinois' most needy children."
The Illinois State Board of Education has identified 54 school districts, based on poverty level and test scores, that are eligible to receive portions of the Reading First grant. The geographic spread of eligible school districts ranges from the Chicago Public Schools to the Rock Island School District to school districts at the southern tip of Illinois.
School districts that receive grant funding will use the monies to purchase materials and provide assessments that have been scientifically researched and proven by the National Reading Panel to raise children's reading achievement by teaching fundamental skills children need to learn to read proficiently.
[Illinois Government News Network
press release]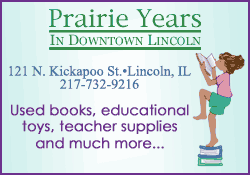 Thank You
To Lincoln Developmental Center employees:
The Lincoln Parents' Association would like to express our sincere appreciation for the excellent care you have given our loved ones over the years. You chose to make a career in caring for the most fragile of individuals with disabilities. For this, we are most grateful.
The stress of this past year has been almost unbearable for you and for us. In spite of poor management, politics and constant scrutiny, you have maintained your excellent level of care. There are not enough words to express our thanks.
Sincerely,
Members of the
Lincoln Parents' Association
[SEPT. 4, 2002]

O

n the Internet, the Illinois Early Learning Project site provides evidence-based, reliable information for parents, caregivers and teachers of young children in Illinois. The address is http://www.illinoisearlylearning.org/.
The site offers printable "Tip Sheets" for caregivers and parents, "Frequently Asked Questions" (and their responses), a statewide calendar of events for parents and caregivers, an easy-to-use database of links to the best of the Web on topics of high interest, and online chats.
The site became publicly accessible in November 2001.
[News release]
Breakfast
(Milk served with all meals)
Tuesday, Oct. 1 — Breakfast pizza, fruit
Wednesday, Oct. 2 — Cereal, cinnamon toast, juice
Thursday, Oct. 3 — Cheese toasty, orange wedges
Friday, Oct. 4 — Cereal, toast with peanut butter, juice
Lunch
(Milk served with all meals)
Tuesday, Oct. 1 — Max cheese sticks with sauce, peas, carrot sticks, pears
Wednesday, Oct. 2 — Tacos with lettuce and cheese, corn, tortilla chips with salsa, peaches
Thursday, Oct. 3 — Chicken and noodles, green beans, bread and butter, applesauce
Friday, Oct. 4 — Chili with crackers, peanut butter sandwich, dill spear, cheese stick, cherry crisp