SPECIAL EVENTS AND ANNOUNCEMENTS
The second annual plant sale by the Logan County Master Gardeners will be April 26 from 9 a.m. to noon, or until the plants are sold out, at the Extension office, 980 N. Postville Drive, on the northwest corner of the fairgrounds. No sales will be before 9 a.m.
The group has over 500 plants, perennials, annuals and houseplants.
Master Gardeners will be available to answer questions.
---
LCHS group conducts canned goods drive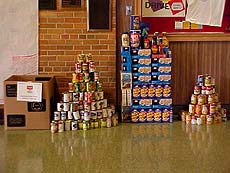 It's the A's against the B's; it's for everyone
Student government at Lincoln Community High School has been approached by Alan Feinstein, a leading philanthropist, who is offering 50 awards of $1,000 to the schools that collect the most canned goods. Our canned goods will be going to the Community Food Pantry. To collect the canned goods we are holding a competition between A and B clubs.
We would like to earn this money for our school and at the same time provide a competition between clubs. We would also like to open this opportunity to anyone at LCHS and our community. We would like your support in helping us reach our goal of 1,500 canned goods. Student government would really appreciate any canned foods you could donate. Please drop your canned goods by the front office.
Thank you.
Student government
---
A conference for relatives and grandparents raising children is planned, under the title "Relatives Raising the Next Generation." The conference is scheduled for Saturday, June 21, from 9:30 a.m. to 3 p.m. at the University of Illinois Extension Center at the Illinois State Fairgrounds in Springfield.
Sponsors are Project LIFE Area Agency on Aging, Illinois Department on Aging and the University of Illinois Extension.
For more information call (217) 787-9234.
---
Here's a new website where families, friends and supporters of the troops can meet and discuss their feelings with others. The site titled "Freedoms Heroes" features forums, news, a photo gallery with e-card sending capabilities, chat and more! It is a friendly place for all to meet and express their feelings and thoughts.
The site has no advertising, no pop-ups. There are no charges for anything on the website.
You are invited to visit the website and support our troops' families.
---
SPRINGFIELD -- The Illinois Environmental Protection Agency will sponsor 12 household hazardous waste collection events this spring, between April 12 and June 21. Collections in Springfield and Bloomington will be on May 3.
"This program continues to be an important service to Illinois citizens," said Illinois EPA Director Renee Cipriano. "Each year, the Illinois EPA coordinates these collections with local co-sponsors. Since they began 1989, 262,100 households have participated in 292 events, with 53,765 drums of material collected."
Local communities work with the Illinois EPA to give citizens the opportunity to rid their homes of unused or leftover household products that are potentially harmful.
Citizens may bring oil-based paints, thinners, chemical cleaners, antifreeze, motor oil, weed killers, insecticides and pesticides, and similar household products. Citizens are encouraged to find alternative uses for latex paint since it is not considered hazardous. Fluorescent and other high-intensity discharge lamps may also be brought to the collections. Items not accepted include auto batteries (which should be taken to local recyclers), explosives, propane tanks, fire extinguishers, smoke detectors, agricultural chemicals and all business wastes.
An Illinois EPA contractor disposes of the wastes in an environmentally friendly manner. The events are free to the public and are paid for by a portion of the statewide fees on solid waste taken to landfills.
Logan County is on the waiting list to host a collection in the future. However, if residents wish to take to their waste products to one of the currently scheduled sites, they may. One-day collections are open from 8 a.m. to 3 p.m. on the Saturdays listed below.
Spring schedule
(Date -- city, county; address; co-sponsors)
April 12 -- Bolingbrook, Will County, town center parking lot, 375 W. Briarcliff Road; Village of Bolingbrook
April 26 -- Skokie, Cook County; Niles North High School, 9800 N. Lawler Ave.; Village of Skokie, Metropolitan Water Reclamation District of Greater Chicago and Solid Waste Agency of Lake County
April 26 -- East Gillespie, Macoupin County; Knights of Columbus, 525 Henry St. (off Route 4); Macoupin County Public Health Department
May 3 -- Springfield, Sangamon County; Illinois State Fairgrounds, enter Gate 11 off Sangamon Avenue; Sangamon County Department of Public Health and city of Springfield
May 3 -- Bloomington, McLean County; Interstate Center, 2301 W. Market St.; Ecology Action Center, McLean County, University of Illinois Extension
May 10 -- Schaumburg, Cook County; Alexian Field, 1999 S. Springinsguth Road; villages of Schaumburg and Streamwood
May 17 -- St. Charles, Kane County; Kane County Fairgrounds, Randall Road; Kane County Department of Environment
May 17 -- Taylorville, Christian County; Christian County Fairgrounds, West Spresser; Christian County Solid Waste Department
June 7 -- Franklin Park, Cook County; village parking lot, 9500 W. Belmont Ave., Franklin Park Health and Human Services
June 7 -- Belleville, St. Clair County; 1501 Westfield Plaza Parkway (formerly the west end of Kmart parking lot); city of Belleville, Scott Air Force Base, St. Clair County
June 21 -- Hillsboro, Montgomery County; to be announced, Montgomery County Coordinated Services
June 21 -- Watseka, Iroquois County; Recycling Center, U.S. Route 24 and 1600 East Road; Iroquois County Office of Solid Waste
In addition, the following long-term facilities are available for disposal of household hazardous waste. Please phone ahead to determine availability and open hours.
Naperville: 1971 Brookdale Road, Fire Station 4; (630) 420-6700, Ext. 7559
Rockford: 3333 Kishwaukee, Rock River Reclamation District; (815) 967-6737
Lake County: The Solid Waste Agency of Lake County currently operates a long-term household chemical waste collection program. For more information and a collection schedule call (847) 336-9340 or go to http://www.swalco.org/.
For more information, call the Waste Reduction Unit at (217) 785-8604
---
The Lincoln Rotary Club is currently looking for four host families for next school year, beginning this August. Rotary hopes to bring an international or foreign exchange male student into our community for the year, with the student scheduled to return home in July 2004.
Each host family will have the responsibility of housing the student for only three months. In this way, four families will get to experience a life from another culture, and the student will get a slice of Americana from the perspective of four different family experiences.
If you are interested in participating in this program, please call Bob Jeckel at 735-5372 or Lynn Laughlin at 735-1793.
---
Landfill open extended hours in April
The city landfill will be open extended hours in April for disposal of landscape waste, according to Street Superintendent Don Osborne. Hours will be from 8 a.m. to 4 p.m. Monday through Saturday. There will be no Sunday hours.
Addresses of city and county officials
Lincoln City Council members
Mayor Elizabeth Davis, P.O. Box 353, Lincoln, IL 62656; 735-3912
Aldermen:
Benny Huskins, 1st Ward, 412 N. Madison St., Lincoln, IL 62656; 732-3894
Pat Madigan, 1st Ward, 110 Park Place, Lincoln, IL 62656; 735-3724
Steve Fuhrer, 2nd Ward, 1203 Eighth St., Lincoln, IL 62656; 732-6679
Verl Prather, 2nd Ward, 700 Broadway St., Lincoln, IL 62656; 732-4778
David Armbrust, 3rd Ward, 700 Broadway St., Lincoln, IL 62656; 732-4261
George Mitchell, 3rd Ward, 427 Wyatt Ave., Lincoln, IL 62656; 735-2151
William Melton, 4th Ward, 1112 E. Burlington St., Lincoln, IL 62656; 735-2658
Rev. Glenn Shelton, 4th Ward, 920 Pekin St., Lincoln, IL 62656; 732-8749
Michael Montcalm, 5th Ward, 700 Broadway St., Lincoln, IL 62656; 732-6606
Martha Neitzel, 5th Ward, 525 Southgate, Lincoln, IL 62656; 732-9320
District 1:
Charles Ruben, 2409 1000th Ave., Hartsburg, IL 62643; 642-5388

William H. Sahs, 1366 2100th St., Lincoln, IL 62656; 735-3546
District 2:
Robert Farmer, 1209 700th Ave., Lincoln, IL 62656; 735-1179

Richard E. Logan, 21 Illini Drive, Lincoln, IL 62656; (work) 732-2323; 732-8114
District 3:
Gloria Luster, vice chairperson, 106 N. Marion St., Mount Pulaski, IL 62548; (cell) 737-0349; 792-5275

John Stewart, 1617 900th St., Mount Pulaski, IL 62548; 792-3444
District 4:
David R. Hepler, 119 Lincoln Ave., Lincoln, IL 62656; (work) 735-4451; 732-8586

Terry W. Werth, 123 Lincoln Ave., Lincoln, IL 62656; 732-9314
District 5:
Patrick O'Neill, 210 N. State St., Lincoln, IL 62656; 732-9337

Dale Voyles, chairman, 543 11th St., Lincoln, IL 62656; (cell) 871-0057; 732-7901
District 6:
William "Mitch" Brown, 1372 1850th St., Lincoln, IL 62656; 732-2268
Paul E. Gleason, 1621 Rutledge Drive, Lincoln, IL 62656; 735-9111
All meetings of the full county board are open to the public.
Board-of-whole meeting: Thursday before third Tuesday of each month, first floor courtroom at the courthouse, 7 p.m.

Adjourned board meeting: third Tuesday of each month, 7 p.m.
(First person named is chairman of each committee.)
Airport/farm:

Farmer, Ruben, Hepler, Voyles, Sahs

Monthly meeting: First Monday, Logan County Airport conference room, 7 p.m.

Animal:

O'Neill, Ruben, Hepler, Stewart, Werth, Voyles

Second Wednesday, first floor county board room at courthouse, 7 p.m.

Buildings and grounds:

Logan, Brown, Stewart, Werth, Voyles

First Tuesday, county board room, 7 p.m.

Finance:

Ruben, Logan, Farmer, Werth, Voyles, Gleason

Friday before third Tuesday, county board room, 8 a.m.

Health:

Insurance/legislative:

Luster, Gleason, Brown, Ruben, Stewart, Voyles

Second Tuesday, county board room, 7 p.m.

Law enforcement/ESDA:

Logan, Farmer, Brown, Stewart, Voyles, Hepler

First Thursday, Blue Room at safety complex, 7 p.m.

Liquor:

Luster, Hepler, Werth, Brown, Farmer, Voyles

On call

Road and bridge:

Werth, Hepler, Farmer, O'Neill, Sahs, Voyles

Friday before board-of-whole meeting, county highway department building, 8 a.m.

Planning and zoning:

Hepler, Stewart, Luster, Logan, O'Neill, Voyles

First Wednesday, county highway department building, 7:30 p.m.

Waste management:

Economic development:

9-1-1 liaison:

Logan

Third Wednesday, 7 p.m.

Work force investment:

Tourism:

Chamber of commerce liaison:

General Assembly liaison:

Community Action:

Personnel:

Voyles, Ruben, Luster

Meets quarterly

Public Aid appeals:

Parliamentarian and historian:

Government, education, Main Street Lincoln:

Safety:

Resource conservation and development:

Regional planning director:

Zoning officer:
---
Addresses of state legislators
Representatives

Rep. Bill Mitchell (R), 87th District

Springfield office:
240-W Stratton Office Building
Springfield, IL 62706
(217) 782-8163
(217) 782-4553 fax

District office:
332 W. Marion
Suite 12
Forsyth, IL 62535
(217) 876-1968
(217) 876-1973 fax

Rep. Rich Brauer (R), 100th District

Springfield office:
Stratton Office Building, Room 1128-E
Springfield, IL 62706
(217) 782-0053
(217) 782-0897 fax

Lincoln office:
Logan County Farm Bureau Building
124 S. McLean St.
Lincoln, IL 62656
(217) 732-4433
(217) 782-5406 fax
Office hours in the Farm Bureau office:
1-4:30 p.m. Fridays

E-mail: Brauer100th@aol.com

Senators

Sen. Bill Brady (R), 44th District

Sen. Larry K. Bomke (R), 50th District

Springfield office:
105D Capitol Building
Springfield, IL 62706
(217) 782-0228
(217) 782-5406 fax

Lincoln office:
Logan County Farm Bureau Building
124 S. McLean St.
Lincoln, IL 62656
(217) 732-4433
(217) 782-5406 fax
Office hours in the Farm Bureau office:
1-4:30 p.m. Fridays

E-mail: senator_bomke@yahoo.com

[Click here to find addresses for other state representatives and senators.]
---
Website helps explain terrorism to kids
The Federal Emergency Management Agency has posted a section titled "National Security Emergencies" on "FEMA for Kids." The special section helps explain terrorism, biological and chemical weapons and how to prepare for these threats. Go to http://www.fema.gov/kids/nse/.
---
Registration open for Girl Scout summer camp
SPRINGFIELD -- Girl Scouts, Land of Lincoln Council is currently registering all interested girls for summer camp programs at Camp Widjiwagan.
Accredited by the American Camping Association, Camp Widjiwagan is located on 67 acres of open and wooded land at Lake Springfield. Each year, nearly 1,300 girls from across central Illinois participate in resident and day camp programs at Camp Widjiwagan. There are cookouts, arts and crafts, songs, games, canoeing, and swimming. Girls are not only having fun but also learning valuable life-skills in a safe, girl-friendly environment.
Registration is open to all girls entering grades 1 through 12, regardless of race, religion, disability or economic status. Girls plan program activities under the guidance of trained unit leaders and learn respect for themselves, each other and the natural world.
For more information about Girl Scouts, camp staff employment opportunities or to obtain a brochure on summer camps at Camp Widjiwagan, please call Girl Scouts, Land of Lincoln Council at (217) 523-8159 or visit www.girlscoutsllc.org.
---
Websites with lots of ideas that Girl Scout leaders, families or kids can use:
Girl Scout leader meetings are the first Thursday of each month, at the usual time and place.
See the website for Girl Scouts, Land of Lincoln Council, at http://www.girlscoutsllc.org/.
You can send questions and suggestions to the council by clicking here: gsllc@girlscoutsllc.org.
Also, see the national Girl Scouts site at http://www.girlscouts.org/.
---
Renew your license plate online
To renew your license plate online, go to https://sosrpltwbcl.ilsos.net/IllExpress/ to find out if you are eligible; then click on the "renew here" link and enter your code number from the notice you received in the mail.
---
Lincoln Jaycees have membership meetings the first Thursday of every month at 7:30 p.m. at the Lincoln Moose Lodge. The meetings are for all current and prospective members.
Board meetings for the Jaycees are on the third Thursday of every month at 7 p.m. at Wendy's Restaurant.
---
Logan County LEPC committee appointments
Logan County Local Emergency Planning Committee, the LEPC, held its spring quarterly meeting at the Logan County Safety Complex recently. Yearly elections for all offices, voting delegates, committees and chairs were held. The following members will serve as officers for the year 2002.
LEPC committee appointments
* Indicates chair
Hazard analysis -- Dan Fulscher*, Kathy Waldo, Lisa Funk, Mike Patridge, Bobbie Abbott, Steve Siltman
Response and preparedness -- Lisa Funk*, Rick Nesbit, Sheriff Tony Soloman, Police Chief Richard Montcalm, IDOT representative Mike Esker
Community awareness -- Dan Fulscher*, Bobbi Abbott*, Linda Nelson, Joan Crabb, Don Begolka, Ken Davison
Health services -- Kathy Waldo*, Lloyd Evans, Gary Bellafiore, Barb Kline, Roger Leesman, Marsha Stoll, Debbie Cook, Steve Siltman
Training -- Mike Patridge*, Delmar Stewart, Sheila Nelson, Lincoln City Fire Chief Washam, Tom Martin
Community resources -- Steve Siltman*, Lincoln Mayor Beth Davis, Atlanta Mayor Bill Martin, Dayle Eldredge, Curtis Sutterfield of the Salvation Army, Devin Vannoy, Ed Houchins
Representatives of constituencies
The law requires that one representative from each of the following categories be included in the LEPC membership. The delegate and predesignated alternate are listed for each constituency.
Local representative of elected official -- Dayle Eldredge; Bill Martin
Law enforcement -- Ed Baunach, Tim Butterfield
Civil defense and emergency management -- Dan Fulscher; Terry Storer
Firefighting -- Robert Washam; Roger Leesman
First aid and EMT -- Steve Siltman; Tom Martin
Health -- Kathy Waldo; Lloyd Evans
Local environmental -- Mike Patridge; Warren Wendlandt
Hospital -- Barb Kline; Gary Auten
Transportation -- Don Begolka; Brian Hinds
Broadcast, print, electronic media -- Joan Crabb; Jan Youngquist
Community groups -- Mary Elston; Tammy Buse
Owners and operators of regulated facilities -- Lisa Funk; Sheila Nelson
---
The Oasis, Logan County's senior citizen center, 501 Pulaski St. in Lincoln, is open weekdays (except holidays) from 9 a.m. to 4 p.m. The center is open also on Friday and Sunday nights for table games. Dominic Dalpoas is the executive director. Activities are open to all Logan County senior citizens, regardless of membership.
Memories class
The monthly meeting of the Memories writing group is scheduled for 3:45 p.m. Friday. Rebecca Johnson will help you get started, with suggestions for recording your special family memories.
SHARE order distribution
April SHARE orders will be available for pickup from 4 to 5:30 p.m. Friday. The Self-Help and Resource Exchange is not just a food co-op. It is about self-help and self-dignity. If you would like more information about the program, stop in on Friday.
Lunch service
Spaghetti and meatballs with salad, bread and butter will be served at 11:30 a.m. April 29. Stop by The Oasis before noon on Monday, April 28, to purchase your ticket for only $3.50. Reservations are necessary.
Volunteer recognition party
The Oasis is sponsoring a party to recognize all those who donate for fund-raising events and those who volunteer their time. This is an open invitation to join us on Monday, April 28, at 1:30 p.m. so we may thank you.
AARP "55 Alive" driver safety class
There are a few seats available for the driver safety class scheduled for 12:30-4:30 p.m. April 29 and 30. The cost for materials is $10, payable to AARP. Upon successful completion of the class, you are eligible for a car insurance premium discount from your insurance company. Class size is limited. Please call 732-6132 for a reservation.
SHIP
A Senior Health Insurance Program representative is available by appointment each Thursday from 2 to 4 p.m. to assist with concerns and billing issues for Medicare and secondary insurance carriers.
Congratulations to the winners
Linda Hughes won the lunch drawing sponsored by Stuffed Area Pizza. The Oasis is grateful to this month's sponsor. The support of the business community is vital to our ongoing operation.
Recent game winners were Esther Will for weekend pinochle and Louise Weibers and Bernie DePuy for 5 in 1. Harley Heath won April 11 pool honors, and Alice Thornton won on April 13. Bernie Haley and Mable Hoagland were weekday pinochle winners.
Newsletter
Friends of The Oasis members receive bimonthly newsletters by mail. For more information, call 732-6132 or 732-5844.
---
The Zonta Club of Lincoln's service committee has announced 2002-2003 projects for the organization. For over 40 years, Zonta Club of Lincoln's major fund-raiser has been an annual turkey dinner served the first Sunday in November. Monies raised support various service projects locally as well as internationally.
International projects include:
--International service programs
--Amelia Earhart Scholarship
--ZISVAW (International Strategies to Eradicate Violence against women and children)
Local projects include:
--ALMH Light Up a Life
--Headstart Christmas (goodie bags for 94 children)
--RIF Reading is Fundamental (books for Logan County fourth graders)
--Summer Reading Program (Lincoln Library)
--Heritage in Flight Museum dues (in honor of Amelia Earhart)
--Camp Candy (scholarships for diabetic children)
--Eye clinic (exams and glasses for children)
--Habitat for Humanity
--Living Alternatives (educational materials)
--Sojourn House (educational and counseling services for victims of domestic violence)
--Salvation Army (community service projects)
--Ronald McDonald House in Springfield
--Health career scholarships
Most of the funds are designated for local health career scholarships. This scholarship program was implemented in 1981. Approximately 50 area residents have benefited from the scholarship program and have become pharmacists, physical therapists, occupational therapists, dentists, a chiropractor and doctors. Don Sielaff, M.D., and Todd Nobbe, O.D., are two doctors who were scholarship winners and have returned to Lincoln for their practice.
Zonta International is a worldwide service organization of women executives in business and the professions working together for the advancement of understanding, goodwill and peace. The Zonta Club of Lincoln has been in service to the local community since 1957. For more information on Zonta, visit www.zonta.org.